New VarPlus Can and EasyCan capacitors for power factor adjustment applications.
These are the latest products of high quality products and solutions category, improving power quality, being designed and developed to help users use them easily, safely and effectively.
This new product line is suitable for all power factor correction applications and power quality enhancements, all complying with IEC 60831 standards.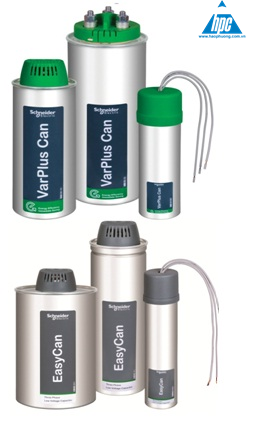 VarPlus Can và EasyCan capacitors
VarPlus Can capacitors' features
VarPlus Can capacitor is supplied to the market with compact single cylinder design and reactive power up to 50kvar, which helps users save up to 30% of the area in the cabinet.
These capacitors are specifically designed to achieve high performance in electrical systems with multiple harmonics and in critical applications.
Built-in three-phase pressure sensor breaker in capacitor ensures safe shutdown even when the device has reached the end of its useful life.
VarPlus Capacitors is fully compatible and calibrated, allowing partners to set up standard electrical cabinets.
Advantages of EasyCan capacitor
EasyCan capacitors are optimized to meet standard application needs and are tested according to IEC standards.
This capacitor line has a reactive power range of 1kvar to 30kvar and is designed, manufactured and tested to achieve the highest level of reliability.
Discharge resistors are fixed and built-in, combined with a three-phase pressure sensor breaker, making this product safe during installation, operation and maintenance.
This is the first capacitor in the industry with user-friendly labels and offers recommendations for safe installation and use.
Clamp-type connector system is designed to maintain the level of certainty and tightness