Industrial exhaust fans are indispensable equipment in factories and workshops. Let's find out more about this item in the following article.
What are industrial exhaust fans?
Currently, a number of works and industries operate in a state of polluted air, which is not well ventilated. Therefore, the necessary need is how to better deal with the environmental situation. Industrial exhaust fans are the solution to this requirement. This is an item with air circulation function to eliminate hot air, odors … This product has a large capacity and wind flow. They are suitable for areas with large acreage such as factories, warehouses, breeding facilities.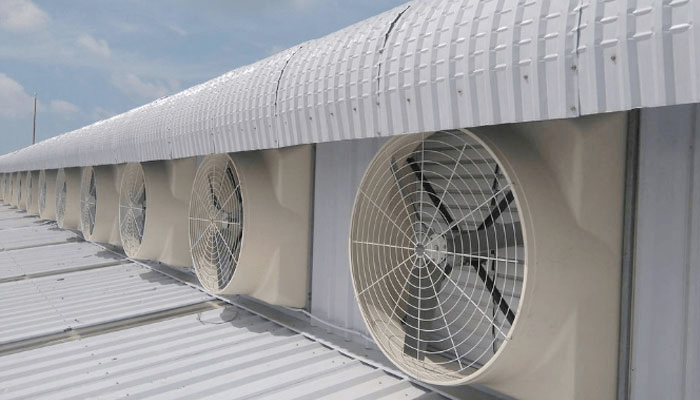 Exhaust fan in factories and workshops
Operation principle of industrial exhaust fans
Industrial exhaust fans operate in a certain cycle. The operating motor pulls the rotating rotor to create centrifugal suction. This force draws air from the suction mouth, then pushes the wind to the blowing mouth. In general, the principle of this operation is quite simple.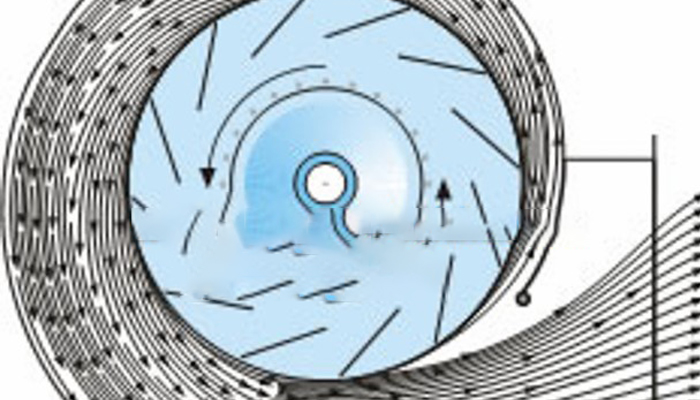 The operating principle of centrifugal exhaust fan
Structure of industrial exhaust fans
There are many types of exhaust fans. Each type has different designs:
Centrifugal exhaust fans (clamshell suction fans): used in factories vacuuming, bran, animal feed, flour …

High-pressure suction fan (large industrial fan): used in large factories such as flour, milling, polishing …

Axial suction fans: round pipes used to suck heat in the kilns, warehouses …
In terms of structure, the suction fan basically consists of the fan cover, impeller, brackets, suction and blowing mouths, transmission core and motor.
Fan casing: the material is tole cut into increments in the form of a shell or circle … The thickness and magnitude of the fan cover depending on the demand for wind.

Propeller: this is the most important detail of the exhaust fan. Because it determines the airflow and airflow of the exhaust fan. There are 3 main types of propellers: vertical leaf blades, leaf blades, vibration cage blades.
The role of industrial exhaust fans
Unlike residential electric fans used in small spaces, industrial exhaust fans are used in factories and production areas with the following roles:
Firstly, industrial exhaust fans are used to suck hot, dry air inside out. At the same time, it helps to bring natural air into the factory. This function creates ventilation, improves the working environment better.

Secondly, it helps to increase air circulation, provide new oxygen, and reduce bacteria and viruses. Industrial exhaust fans bring fresh air, good for the health of those working in the factory.

Third, industrial exhaust fans help the air to circulate. When combined with the Cooling Pad, it reduces the moisture due to water vapor in the air, providing a cool and dry environment.
Things to keep in mind when installing suction systems for buildings and factories
Classification of duct systems
Currently, the wind duct system is divided into two main types: natural suction system and mechanical suction system.
Natural suction system
When building, workers can design their own industrial exhaust fans via equipment mounted on the roof or in open space.
Mechanical suction system
A specialized system for buildings and factories. This type requires a lot of technique and requires the worker to be highly specialized. Using mechanical suction system will actively suck the air from outside. At the same time, hot air is pushed out to the environment, helping the room have a cleaner atmosphere.
Note when installing
Consider installation location, number of fans installed and capacity
In order for the exhaust fan to be effective, the placement of the exhaust fan is very important. You should avoid placing the fan at a height as high as your head, where there are many people crossing. Because this will affect human health when air intake pressure is high. You should install at locations higher than the head, where there are few people traveling to create an effective workspace.
Select the appropriate suction system according to climatic conditions, the temperature where the factory is located
To choose the appropriate suction system, you should consider the climatic conditions, the temperature at the factory. If the factory is located in a cool place, you should choose the type of industrial exhaust fan. If the factory is located in a place with high temperature, it is recommended to use a suction system. They will cool the sound pressure to adjust the internal temperature of the building.
Made by a team of experienced technicians
The installation of suction systems for workshops should be carried out by a team of professional workers. Need to plan in detail and detail from location design, choosing the type of system or installation costs.
Classification of industrial exhaust fans
Today industrial fans are no stranger to the manufacturing plants in our country. Along with that is the variety of models as well as the type of industrial blower on the market. In this section, let's re-system the current common industrial exhaust fans.
Centrifugal fan
Centrifugal fans are fans that use fans to create wind. Low-pressure centrifugal fans are ones that use only a single suction nozzle. This type of fan is compact in size, generates high winds and makes no noise. Low-pressure centrifugal fans are often used in suction tubes. However, this type is often not suitable for environments with lots of dirt, solid objects, high temperatures above 60 degrees C.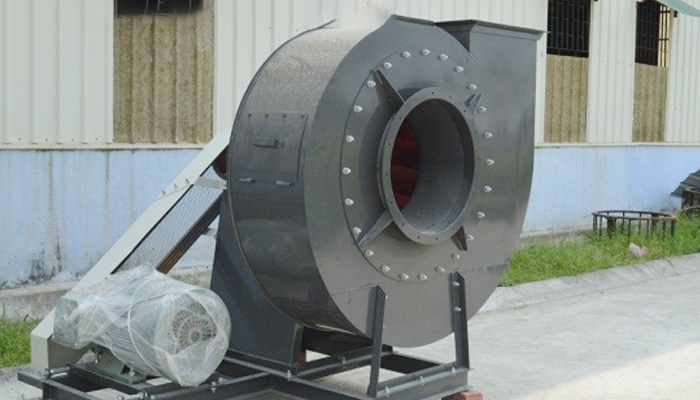 Centrifugal fans
Medium-pressure centrifugal fans overcome the disadvantages of low-pressure fans. The main use of this type of fan is vacuuming and small solid objects in the air. Medium-pressure centrifugal fans can work well in temperatures below 80 degrees Celsius. The impellers are all made of sturdy alloy.
High-pressure centrifugal fans mainly operate in a high-temperature environment. This type of industrial exhaust fan can create coercive airflow. For example in a furnace, a boiler. This type is also used to move products in the production line such as food processing, packaging production lines, …
Axial fans
This type of fan can generate air in and out along with the fan shaft. This type is more efficient at generating wind than centrifugal fans. However, the pressure column is quite small. Axial fans are suitable for installation in suction pipes. Axial fans are also not a substitute for vacuuming and moving products along the production line. Axial fans are suitable for ventilation and exhaust. It saves more electricity than centrifugal fans.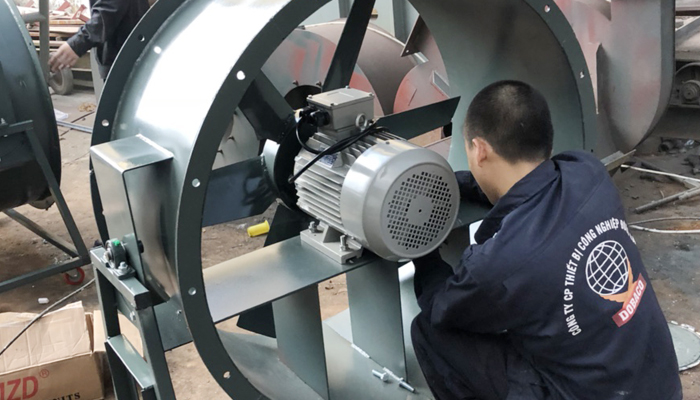 Axial fans
Steam fan cooling pad
This type of fan generates wind which increases the evaporation capacity of the steam pad Cooling pad. In addition to cooling, this system also increases humidity in the air and saves a lot of electricity compared to using air conditioners.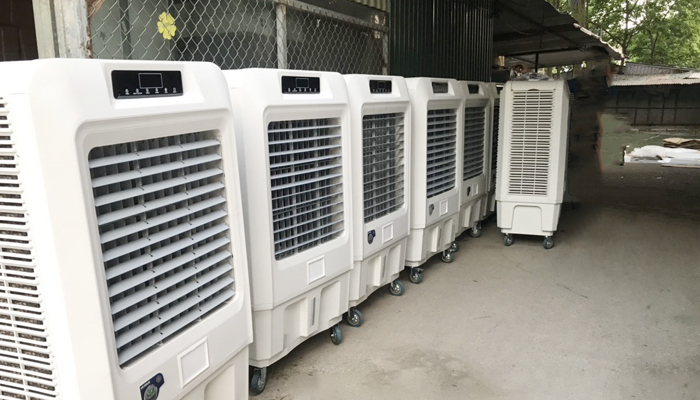 Misting fan
This type of fan uses small nozzles to spread tiny droplets of water in the air. This product is suitable for farm, factory cooling.
Hopefully, the information on industrial exhaust fans has helped you better understand this item. See you in the next useful posts.
-> See more: Electrical cabinet exhaust fans
Beeteco.com is the e-commerce channel of Hao Phuong Corporation, specializing in distributing and trading industrial electrical equipment of many prestigious brands in the world.
Want more advice on the Industrial exhaust fans? => Call us immediately via Hotline: 1800 6547
Want to see more info about the Industrial exhaust fans? => see all the products: here!
Or leave your contact information, we will contact you as soon as possible!