The Hao Phuong Group 2018 Football League will start on July 27, 2018. All hearts are directed to the tournament, 6 teams with 6 play styles, 6 different cheerleading styles are determined to score points in matches.
This year's football tournament is not only a competition between teams but also a healthy playground of Hao Phuong's collective that unites the spirit of solidarity for a sustainable future.
One of the points to assess which team won the style is the talent of the team members. Don't be afraid to show your talents, the organizers will appreciate the poems, paintings, or other talents that you send to the Organizing Committee.
Hao Phuong would like to send everyone a poem requested by the author. This is just one of your "talents" in the Hao Phuong collective.
Đam mê HPC
Worldcup ba hai đội banh
Hạo Phương sáu đội cũng tranh giải vàng
Worldcup giải "cược" cả làng
Hạo Phương giải gắn – hàn tình anh em.
Worldcup thức trắng ngày đêm
Chả lo sức khỏe lại thêm phiền lòng
Hạo Phương đá giải thành công
Mong cho đoàn kết – yêu thương tỏ bày.
Worldcup chả hề fairplay
Cá cược, thu độ, nhảy sông "chạy làng"
Hạo Phương chơi luật rõ ràng
Phòng ban các đội chẳng màng sân si.
Tưng bừng hoan hỉ công ty
Anh em khắp xưởng, dưới – trên rộn ràng
Quyết tâm "thỉnh" được cup vàng
Vinh quang thắng giải, mang yêu thương về.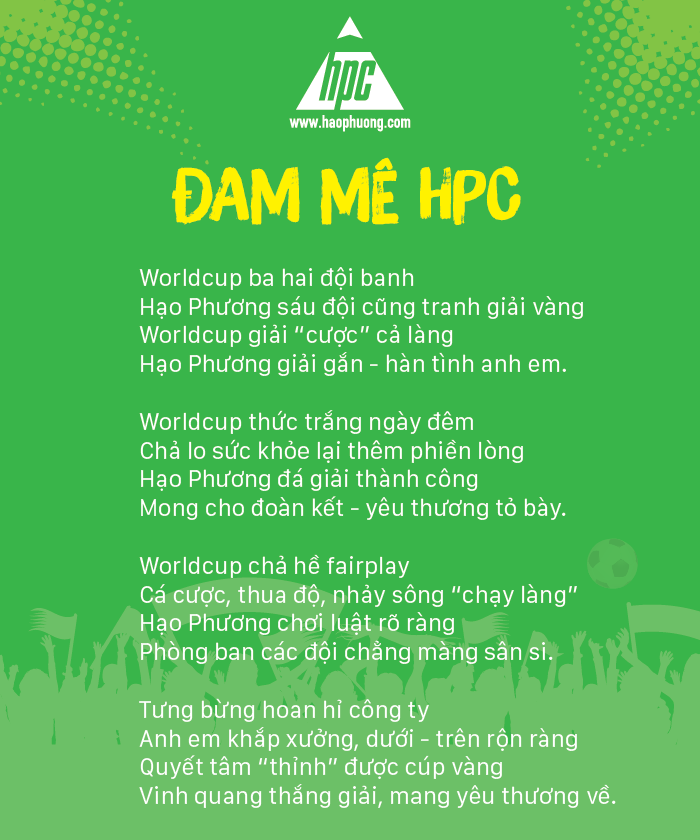 Only 2 days left are dramatic matches taking place. If you have your work, please send it to the organizers soon!