There are many people asking where are MCB and MCCB different? They are all circuit breaker, why have such a different name? To help you have a reasonable answer and choose the right circuit breaker, Hao Phuong will help you in this article.
What is a circuit breaker?
First of all, what is a circuit breaker? the circuit breaker also is known as CB or automatic breaker. CB is an electrical device used to break the circuit. It is used to protect the phenomenon of load, short circuit, pressure drop … of the circuit.
Currently, there are many types of CBs such as MCB, MCCB, ELCB, RCBO, etc. The common point is that these devices are used to ensure maximum safety for users when there is a power incident occurred.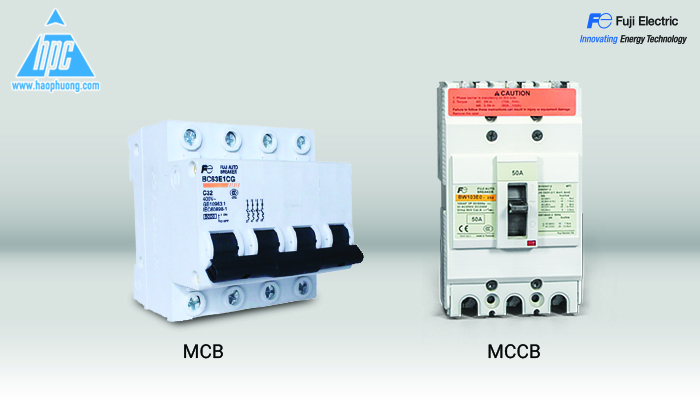 Fuji Electric MCCB & MCB 
The difference between MCB and MCCB
– Application: MCCB is a standard CB type mainly used in industry, dynamic circuits. MCB is a mini CB form mainly used in household, the control circuit
– Design: MCCB is a type of shell molded in a box, MCB is a composite.
– Function: The MCCB can be adjusted to Ir, MCB is not. The Icu and Ics lines of MCCB are larger than those of MCB
– Size: MCCB is larger than MCB.
– Attaching accessories: MCCB can add option is the coil, spring-loaded motor coil to control remote switching, MCB does not.
– Cost: cost of MCCB is higher than that of MCB.
Above are some of the knowledge we have gathered to help you have useful information about the difference between MCCB and MCB. Don't forget to follow the next article on the company's website.
Beeteco.com is the e-commerce channel of Hao Phuong Corporation, specializing in distributing and trading industrial electrical equipment of many prestigious brands in the world.
Want more advice on the Inverter? => Call us immediately via Hotline: 1800 6547
Want to see more info about the Inverter? => see all the products: here!
Or leave your contact information, we will contact you as soon as possible!