Hao Phuong is a leading system integrator in Vietnam. Over 14 years of industry experience, our mission is to be a pioneer in addressing challenges in the 4.0 industry era. We understand the challenges of the business; need modern technology, good service to production needs, minimize risks to people and the environment.
Palletizing Robot is one of the solutions that give businesses maximum benefits.
In this article, I want to introduce to you the standard configuration of the Palletizing Robot – Full Automation system.
Application of the Palletizing Robot.
Palletizer Robot is used to put all kinds of finished bags and cartons on pallets.
Advantages:
– Speed up to more than 1000 cycles/hour.
– The robot is a specialized type, working steadily for 3 shifts/day, suitable for all different environmental conditions of the factory.
– Low cost, quick payback time.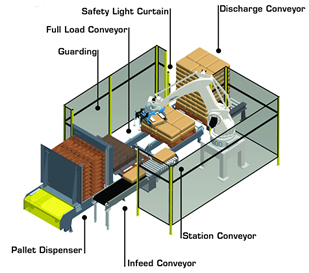 Palletizing Robot Configuration – Full Automation
Full Automation configuration
1. Robot Arm
2. EOAT (End of Arm Tool)
3. Base for robot
4. Infeed Conveyor
5. Pallet Dispenser
6. Station Conveyor
7. Full Load Conveyor
8. Discharge Conveyor
9. Guarding
10. Safety Light Curtain
In addition, the Palletizing Robot system can be further integrated:
Check Weigher weighing system, check product weight, and automatically remove unsatisfactory products.
Wrapper machine to wrap PE film for pallets.
Robot installation area
The Palletizing Robot compact design does not take up much space. Currently, Hao Phuong has installed many Palletizer robot projects, so there are many different layout layouts to suit every customer's needs. With a minimum area of 5766x2362mm can be installed palletizer robot system with Full Automation configuration.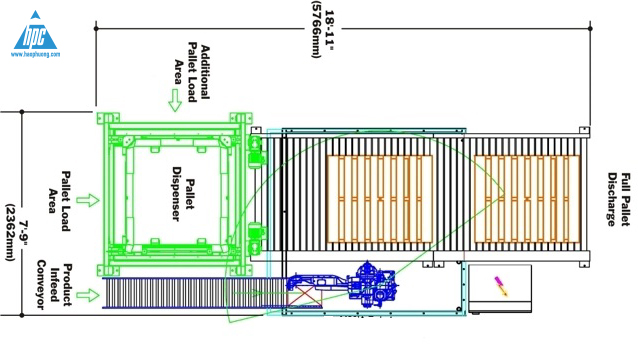 Safe operation
With the robot system, the first thing we focus on is safety for the operator.
We use high-class equipment from leading manufacturers in Safety Switch, Light Curtain, Emergency Stop, Switch Door, Buzzer, Light Tower … to ensure absolute safety.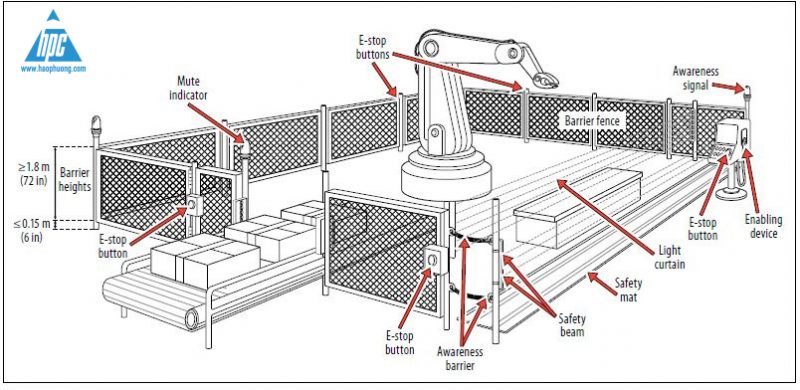 Above is the configuration Palletizer robot we introduce to you. Hopefully, after this article, you will choose for yourself the most effective and most economical solution for your business.