Improved online configuration, power performance and miniaturization
Rexroth Pneumatics is making major improvements at the Hannover Messe. AES electronic system for new AV03 valve line, such as continuous integration into different automation environments.
New online tools enhance customer service for pneumatic component configurations: a calculation program shows that gas consumption is expected to be available throughout the pneumatic circuit diagram design.
Design engineers can increase energy efficiency while planning projects without spending anything more.
New MSC mini slides extend freely in the optional configuration for a wider range of performance.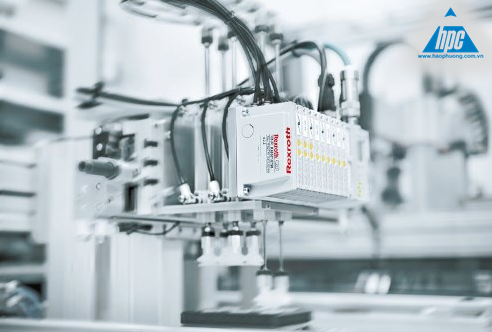 New electronic control AES for AV03 pneumatic connector valve system
For all common industrial controls or via telegraph or via Ethernet protocol.
Due to the diagonal arrangement, the AV03 valve series while providing full functionality is only half the size and weighs less than half the weight of other standard commercial valves.
This allows the design engineer to place them close to the actuator, thus reducing the gas consumption of compressed air up to 55%.
The online review configuration completely simplifies the selection and design of pneumatic solutions.
The online portal for compressed air includes all the necessary technical tools from product selection to personal configuration of a pneumatic component to create a pneumatic circuit diagram according to DIN ISO 1219 -2.
For this, users do not need CAD licenses but can work with some free models and job boards. A special feature: Rexroth Pneumatic has integrated a gas consumption calculator into the circuit diagram creation process, allowing users to optimize energy efficiency during the concept development phase.
Users can convert all work results into eShop with one click.
In terms of actuators:
Rexroth pneumatic is making other innovations with its mini MSC slide. "Pneumatic users on the one hand want standard components, but on the other hand is also an opportunity to precisely adjust each performance feature for individual applications," said Dr. Alexander Lawrence, deputy Bosch Rexroth AG sales segment shared: "to summarize market requirements. New mini slides include a larger operating range than before. At the same time, it gives users the option to configure components for each individual task. "
Bosch Rexroth announced
During the 2012 Hannover Messe, they wanted to move their pneumatic operations to a separate business unit. Before June 2013, this will be achieved.
Rexroth Pneumatics will then operate as a company in Bosch Rexroth. This position provides Rexroth Pneumatics with more development opportunities besides factory automation.