The palletizing robotic system is an industrial solution with many outstanding advantages that is currently very much concerned. Let's find out about this system in the article below.
Why is the palletizing robotic system needed?
What do manufacturing enterprises in Vietnam need to do to create a competitive advantage in the era of integration? One of the most important things to do is to minimize production costs. To do this, businesses need to promote investment in technology. This action will help increase product quality and work efficiency significantly.
In Industry 4.0, the utilization of cheap human resources has not been able to bring into full play its advantages as before. For example, a feed factory in Ben Tre has 15 production lines. They invest 7 robot systems. Previously this enterprise needed to hire 180 workers for 3 production shifts. They are only tasked to arrange each bag of finished bran on pallets. After investing 7 Palletizing Robotic system, this business has cut a lot of costs. In which, most are reducing the cost of paying workers. Not only that, these robots have dispelled the worry of labor shortage and instability. This is a permanent concern of enterprises in the manufacturing industry.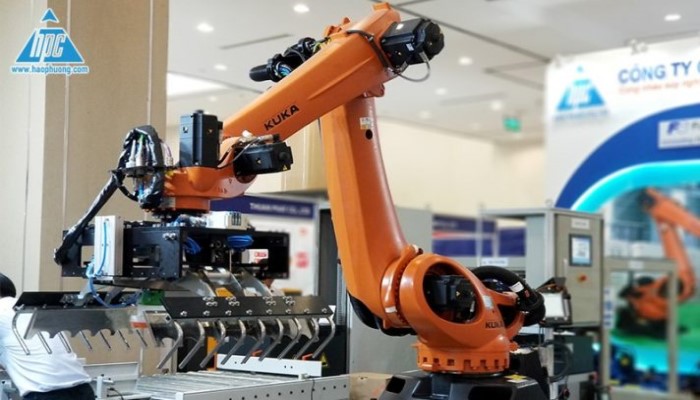 A model of a robot sacks on the pallet of Hao Phuong Company
So what is the palletizing system?
Palletizing Robot is a term used to refer to a type of robot used to put products on pallets instead of workers. These types of bags are usually PP bags, paper bags, cartons, boxes…. Robotic Palletizer system includes the accompanying components. They also depend on the specific application. Examples include the structure on the robot arm (EOAT – End Of Arm Tooling), the conveyor for connecting the system, the weight check, the control cabinet, the security system safety … These components will form a complete Robotic Palletizing system. They serve a variety of requirements in factories and factories.
Features of robots packed on pallets
Performance
The robot can lift objects up to hundreds of kilograms. Their operating frequency is over 1000 times/hour with a repeat accuracy of 0.06 mm. Robots on pallets can work in all different environmental conditions.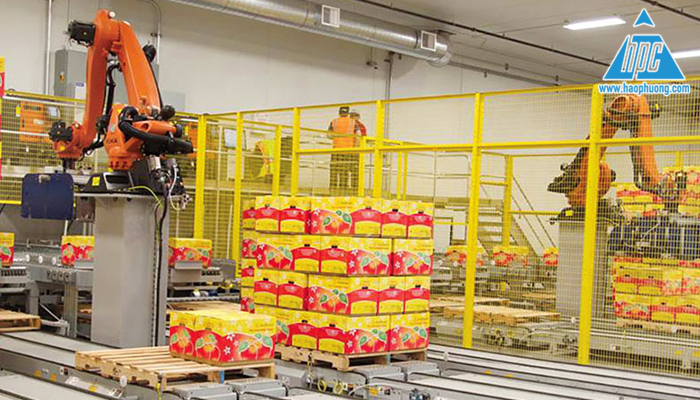 the palletizing robot operate stably with high intensity
Types of configurations of the palletizing systems
Robotic Palletizer Systems has two configurations: semi-automatic and fully automatic.
Semi-automatic system
These are usually single systems. Have a robot that works with 1 or 2 production lines. This configuration is suitable for small capacity plants. It is also suitable for factories with production lines located in many different areas. With a semi-automatic system, the delivery of pallets to the working position of the robot is done completely manually.
Fully automatic system
There are usually 2 or more robot systems. This configuration will be suitable for factories with large capacity, have many production lines, many types of products. With the automatic system, the pallet will be granted to each working position of the robot completely automatically.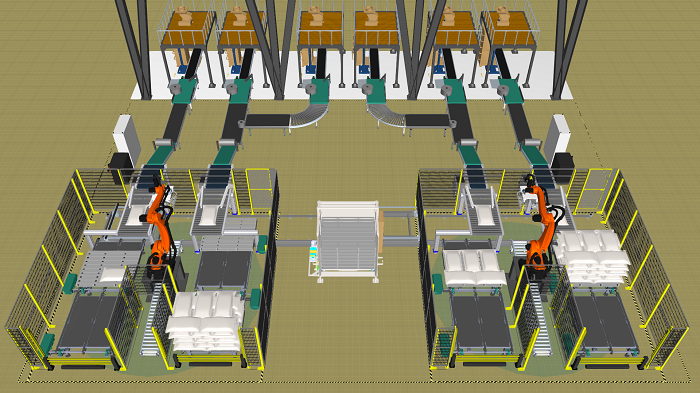 The Robotic Palletizing Systems
Hao Phuong is the pioneer in developing the Robotic Palletizer system
The process of applying technology to create competitive advantages is also a challenge for Vietnamese businesses. Because advanced technologies such as automated robots are now manufactured and distributed by large foreign corporations. For example, Germany, Japan, Canada, Thailand … Imported products always have high investment costs. At the same time, maintenance costs are also high. But now the cost issue is no longer a big challenge.
Vietnamese businesses have been able to compete with technology by-products completed by the Vietnamese themselves. Typically, the solution of palletizing robots that Hao Phuong is providing. In addition to robotic arms imported from Europe or Japan, other components are designed, processed and installed by us. This creates the Robotic Palletizer system. These solutions not only meet the needs of customers. They also help customers significantly save system investment costs.
Epilogue:
Hao Phuong Company is the pioneer enterprise in addressing challenges in the industrial age 4.0. With over 14 years of experience, we are confident to be the leading system integrator in Vietnam. Hao Phuong understands the challenges of businesses. Therefore, the company is constantly investing in research. The goal is to access modern technology to best serve the needs of society as well as our customers and partners.