Palletizing robot system has been applied by many enterprises in the stage of storage queues. In the past, if you did not use a robot, you had to invest in machines and people.
The benefits from Palletizing Robot:
Using the Palletizing robot system will help reduce many expenses such as: cost of hiring workers, maintaining, investing more technology, machines, …
Hao Phuong team has been installing for an animal feed factory in Ben Tre. With 15 production lines, they invested 7 stacking robot systems. This robotic system helps them reduce 180 workers for 3 production shifts – just to put each bag of finished bran on a pallet.
Learning the Robotic Palletizing terminology
Robotic Palletizing is a term for talking about specialized robots to arrange products such as: PP bags, paper bags, cartons, safes … on pallets instead of workers.
Depending on the specific application, there are accompanying components suitable for that application such as:
+ Structure on the robot arm (EOAT – End Of Arm Tooling).
+ Conveyor to connect the system (Conveyor).
+ Check weight.
+ Control cabinet (Controller).
+ Safety Fences system.
Since then formed Robotic Palletizing Systems.
Robots can lift objects up to hundreds of kilograms. The working cycle is more than 1000 times/hour with repeat accuracy of 0.06mm. Works in all environmental conditions.
Robot is stacking bags on pallets
Semi-automatic and automatic Palletizing Robot System
Semi-automatic system: usually single systems, there is a robot working with 1 or 2 production lines, suitable for small-capacity factories, production lines located in different areas. With a semi-automatic system, the supply of the pallet to the robot's working position is completely manual.
Automatic system: There are usually 2 or more robotic systems, suitable for large-capacity factoriess with many production lines, many types of products. With automatic system, the pallet will be supplied to each working position of the robot completely automatically.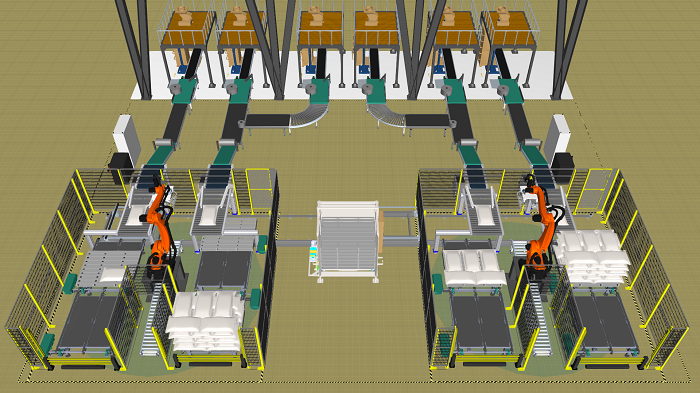 Demo of Palletizing Robot System
Hao Phuong pioneered to address challenges in the industrial age 4.0
The application of technology to create a competitive advantage is also a challenge for Vietnamese enterprises because of investment costs. Now that is no longer a challenge, Vietnamese businesses can compete with technology.
We (Hao Phuong Corp) will help businesses solve those challenges. In addition to the robot arm that must be imported from Europe and the US and Japan, all the remaining components are processed in the country.
Especially, we invest in professional design software along with a team of well-trained engineers in installing Robot systems.
Thereby helping businesses reduce investment costs significantly such as: hiring consultants to install, cost of transporting components, installation costs, ….
With over 14 years of experience, Hao Phuong is the leading system integrator in Vietnam. We understand the challenges of businesses, always invest in research to access modern technology, well serve social needs.
Benefits when applying Robot system to automatic production
1. Reducing labor costs.
2. Reducing the task of managing people in the production process
3. Improving the quality and consistency of products.
4. Connecting all production stages to enterprise management software (ERP)
In addition to providing / selling the entire system, we also offer a rental service package according to the needs of customers.
Contact the appropriate solution consultant
Contact us for a free consultation Hotline: 1800 6547
+ Southern region: 1800 6547 press 1
+ Northern region: 1800 6547 press 2