Easy measuring and controlling for the main pump (duty pump) and compensating pump (assist pump).
The main pump (duty pump) is the type of pump used in a system or a process with an almost total operating time.
However, during peak operating mode, when it is required to provide flow exceeding the capacity of the pump at the output, a support pump (assist pump) is needed to compensate for this shortage capacity.
This is a very common practical requirement for applications in the Water and Wastewater industry in general when operating on loads, i.e when there is a peak operating requirement for the output of the pump.
Then, the assist pump will be switched to active mode and it will be disconnected when the peak operating time passes.
The important issue here is that the duty pump and the assist pump must be controlled in a coordinated manner.
A sketchy cooperate control system can make the pump system run unstable, rhythmically and cause unwanted vibrations.
Therefore, establishing a control system that incorporates these two pumps is extremely important in order to maintain smooth operation in both the on or off of the assist pump mode.
With the CM30 or CM50 multi-function controller, setting up the duty pump – assist pump system becomes extremely simple thanks to the principle of output division.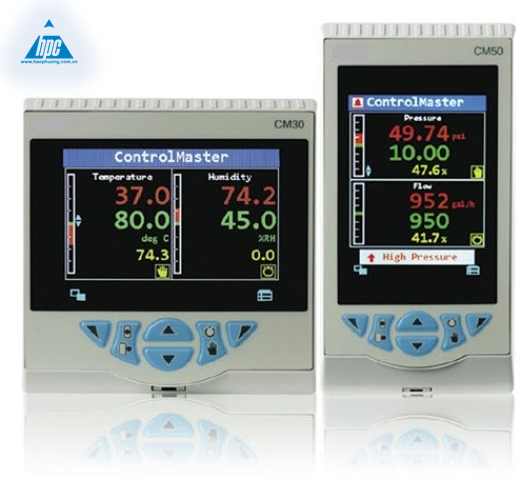 Single control or coordinated control with the assist pump
For example, a technological process requires two separate physical outputs with two different controlled pumps.
However, operational requirements and operating modes are related to each other. We can use a PID control circuit to coordinate the operation of the two pumps together.
The PID controller will be divided into two control strips. When each flow needs to exceed a preset value, the controller will assign the active assist pump to ensure the technology requirements.
When the request is below the set value, the assist pump will rest and only the main pump is working to achieve the required flow rate. This combination also improves the efficiency of maintenance and operation costs and enhances pump life because the main pump does not have to run over capacity.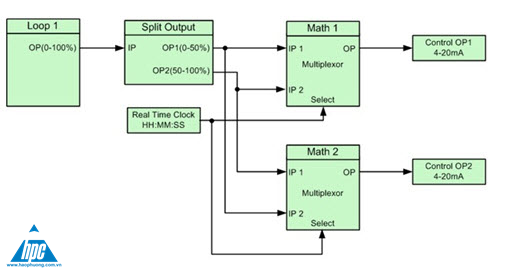 In this example, a set value of 0-100% corresponds to 2 PID output values. In particular, the main pump and the compensating pump are divided into control ranges to coordinate and meet technological requirements.
In the range of 0-50%, only the duty pump is running and the PID 2 output is kept at 0. When this range is exceeded, the assist pump will be put into operation to meet the required pump capacity.