On June 14, the 2019 Vietnam Industry & Manufacturing Fair (VIMF)  officially closed with many memorable impressions at the Binh Duong Convention and Exhibition Center
Many activities were held at the exhibition
The 2019 VIMF brought opportunities for businesses to approach the trend of applying modern advanced technologies of Industry 4.0 into the production process. The exhibition attracted more than 5000 customers to visit with many useful activities.
Seminars
During the 3 days of the exhibition, the participants organized many seminars to disseminate the latest updated information of the industry to visitors. Eg:
Seminar about the connection in production: The 4th Industrial Revolution (Industry 4.0), IoT (Internet Of Thing) and Smart Manufacturing.
Seminar on 3D Printing and Design Technology: Application of Printing Technology in production, processing and living.
Robot seminar and application in the living – production
These seminars are aimed at exchanging experiences in the application of new technologies in production among enterprises.
Related series of events
In the framework of the 2019 VIMF exhibition, there was also took place a series of events related to different fields. Which must be mentioned:
Industrial applications robots.
Manufacturing of industrial machinery, tools and equipment.
Mechanical processing, auxiliary industry.
Automation (TDH) Industry, factory, process, and system integration.
Plastic machinery and packaging industry.
Inkjet printer, date printer.
Print and 3D design.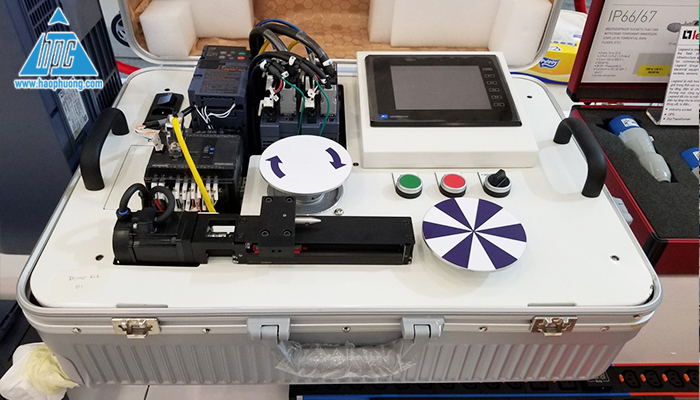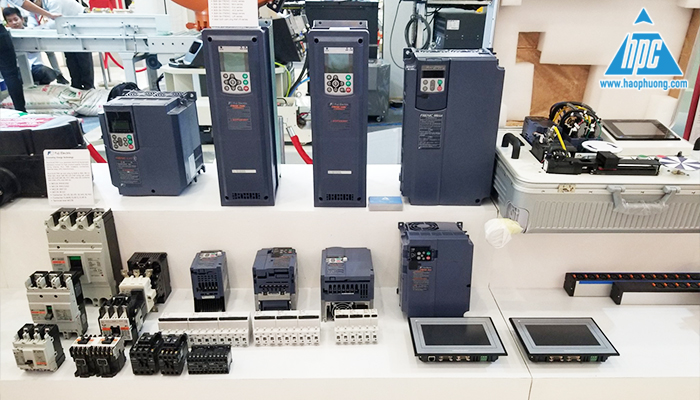 Some equipment was displayed at Hao Phuong booth
VIMF exhibition is a good opportunity for businesses promoting products and expanding markets
After many years of successfully organizing, VIMF is evaluated as one of the most prestigious industrial exhibitions in Vietnam. These developments become bridges and ideal destinations for domestic, foreign manufacturers, suppliers and trade.
Here they have the opportunity to introduce and promote new products and technologies. Also, meet and interact directly with potential customers. These benefits greatly help businesses in developing and expanding markets. In parallel, it is to establish the foundations for future cooperation.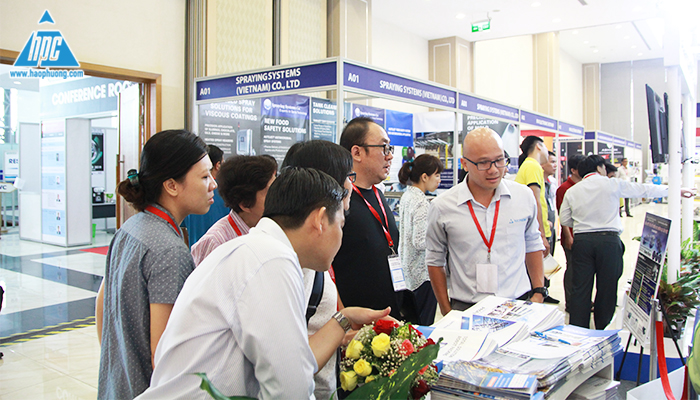 Customers were searching and exchanging information with Hao Phuong at VIMF 2019
Opportunities and challenges for Hao Phuong after VIMF exhibition 2019
Opportunities
Hao Phuong pioneered bringing to the 2019 VIMF exhibition robotics solutions in the manufacturing industry. These robots are well received by many customers and give much attention. Many businesses have stopped by the company's booth to exchange information. This is an opportunity for Hao Phuong to seek and expand cooperation with more and more potential customers.
challenges
Besides, there are many other units and businesses also participating in the VIMF exhibition this year. They are also the opponent of Hao Phuong in the industry. This requires us to constantly improve and improve product quality. Besides, improving services to increase competitiveness. This is no small challenge for us. But with his experience and ability, Hao Phuong is confident to serve customers in the best way.
Let's look back at the impressive images at Hao Phuong booth during the 3 days of the 2019 VIMF exhibition: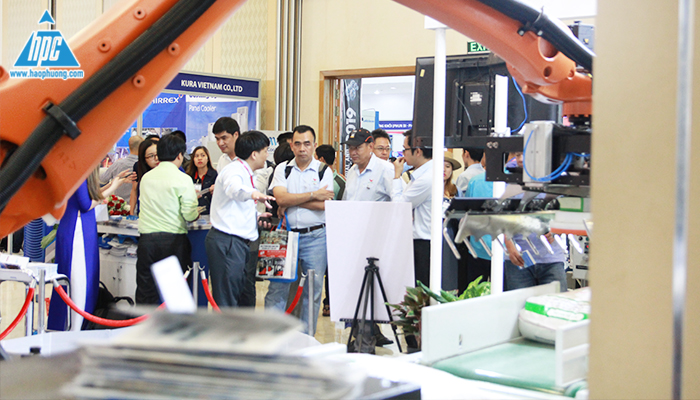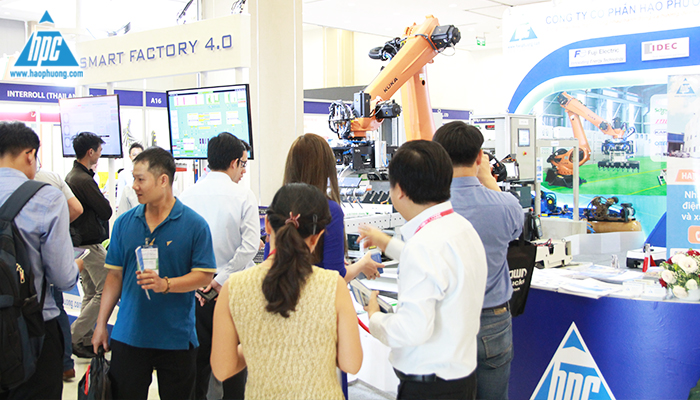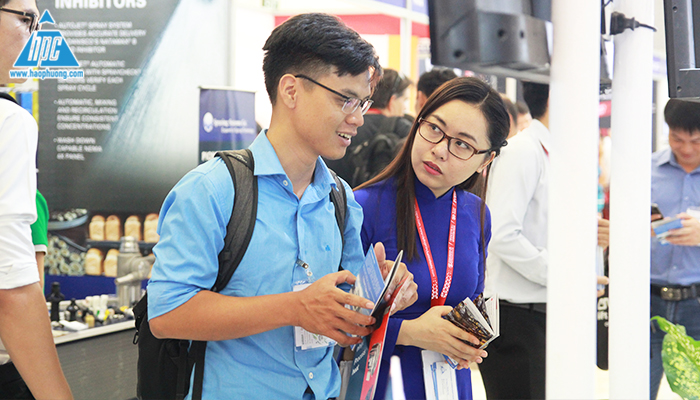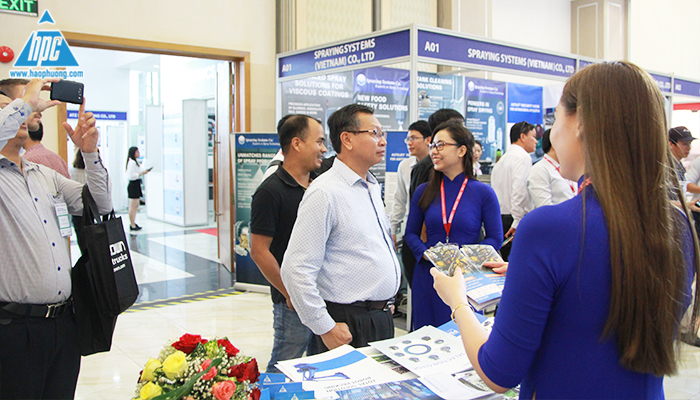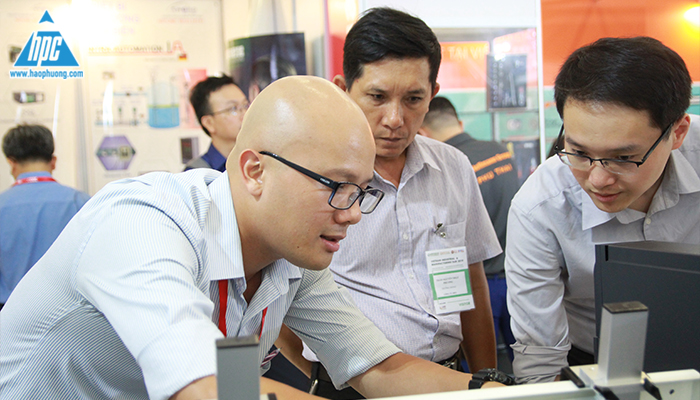 the 2019 VIMF exhibition ended with many successes and remarkable marks. Hao Phuong is honored to bring you quality products and services. Especially from the experienced staff of the company. We would like to express our sincere thanks for your interest during the exhibition. See you at VIMF 2020 exhibition.