2019 Vietnam Industrial & Manufacturing Fair (VIMF) will take place from 12th to 14th June 2019. At this exhibition, Hao Phuong will introduce robots solutions and self-propelled AGV vehicles that the company is providing to the market.
What is the robot solution system in industry?
The industrial robot control system allows the robot arm to become a complete structure. This structure helps to improve working efficiency twice. They can be applied on existing bagging lines by taking advantage of all conveyor belts, sewing and bagging equipment available for cost optimization purposes.
Introducing Hao Phuong's robot solutions at 2019 VIMF 
Come to the VIMF exhibition this year, Hao Phuong brings 2 robot solutions. It is a palletizing robot and a robot that automatically opens/closes the bag. Let's find out the interesting information about these two robots right here.
Palletizing robot:
The introduction of applying robots in the production activities of enterprises is developing. Robots not only support people in industries but also in agriculture.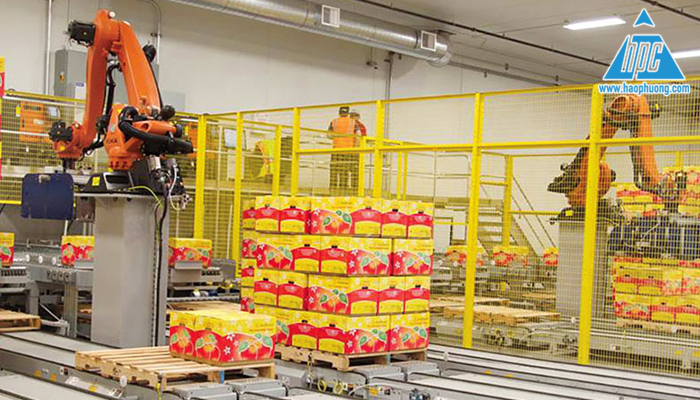 a model of palletizing robot
>>More details about robots: Palletizing robot
Learning about Robotic Palletizing:
Robotic Palletizing is a term for all kinds of robots used to arrange products such as PP bags, paper bags, carton products, safes … on pallets instead of workers.
Depending on the specific application, there are components that match the function of the Robotic Palletizing system. Eg:
EOAT – End Of Arm Tooling
Conveyor
Weight checking
Controller cabinet
Safety Fences
The benefits of palletizing robots:
Using a palletizing robot system will help reducing many parts. Especially the cost of hiring more workers. Hao Phuong once completed the project of installing 7 palletizing robots for the animal feed factory in Ben Tre. This robotic system helps to reduce about 180 workers for 3 production shifts – just to put each bag of finished bran on a pallet.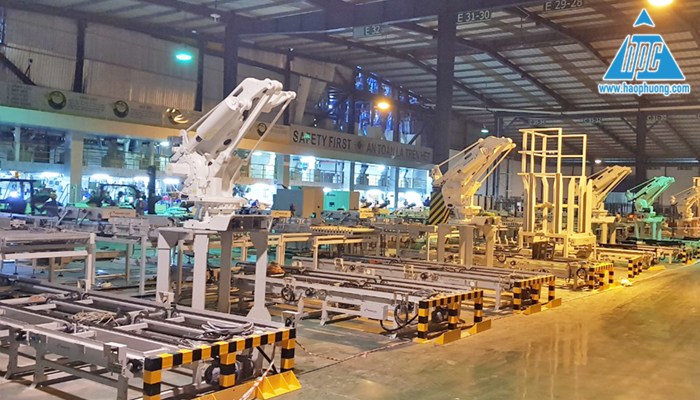 The palletizing robot project for a customer in Ben Tre of Hao Phuong
All processes of research and production of palletizing robots must be strictly adhered to. The ultimate goal is to ensure absolute accuracy and safety during the robot operation.
>>More about this robot
Automatic bagging robot
This robot system takes care of automatic opening and closing. Robots can work with all types and sizes of bags. They can also be combined with traditional bagging-weighing systems or bagging-weighing systems. This system is suitable for bags of 5-50 kg weight.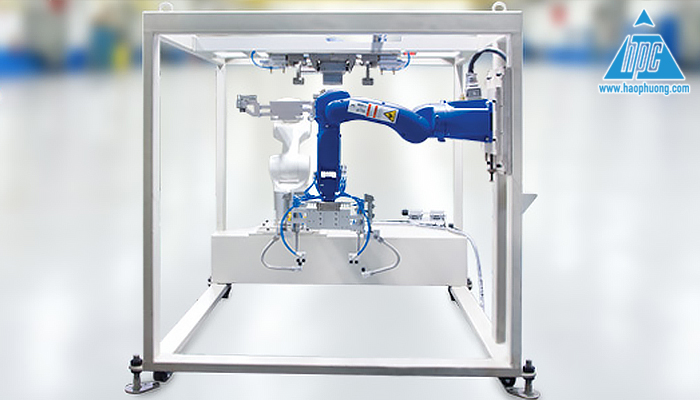 Automatic bagging robot
Special features.
– Productivity can be up to 18 bags per minute
– It can be integrated sewing bag stitches automatically.
– 7-inch control screen of Mitsubishi, Siemens, AB PLC
– Yaskawa, KUKA 6 -steps Robot & controller PLC
– The grip arm is controlled by the servo
– Clamping mechanism on the robot arm
>>See more about Robots
Self-propelled vehicles AGV
AGV stands for Automation Guided Vehicle. This is a smart device used to transport goods without human intervention. AGV is often used in automobile assembly and production plants, components manufacturing, large warehouse systems,…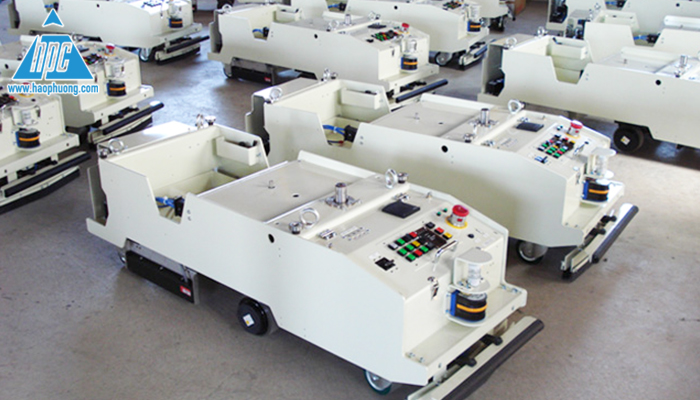 A model of AGV
Characteristic features of AGV:
AGV can move flexibly, backward, left, right and revolving with loads up to 3000 kg. In particular, with a wireless charging feature, the car easily operates continuously 24 hours/day.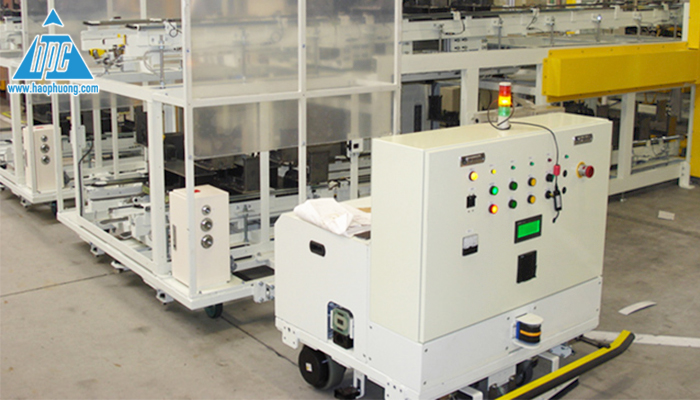 Pull-type AGV
You can rest assured when using AGV in indoor or outdoor environments. Thanks to the ability to identify obstacles, AGV will stop when encountering obstacles and continue to operate when obstacles are removed.
AGV is controlled by the IoT system. This is a factory monitoring system that helps track work progress. You can easily install and change the travel route of AGV. This is done thanks to features such as control by wifi, Bluetooth, …
The benefits that AGV will bring.
– Helping to reduce the number of employees
– Shorten production time and improve productivity
– Minimizing accidents from transporting goods
– Improving safety during production
>>see more about AGV
Advantages of using robots to replace workers
Workers are people who often have to do heavy, boring, repetitive tasks or require high accuracy. So errors are inevitable. The use of robots helps work always be continuous with the highest accuracy.
Industrial robots need not rest, never lose focus and rarely make mistakes. They can operate 24 hours a day with 100% productivity without a break if regularly maintained. In particular, they can work fully automatically, without needing or requiring very little human intervention.
The benefits of robots serving in the current economic sectors are undeniable. Hao Phuong is confident to be one of the leading robot solution providers in Vietnam. We hope that the products provided by the company will receive the attention and acceptance of customers and partners in this year's exhibition.