To avoid overload in electrical equipment, we often use thermal relays. However, in order for this device to promote all the inherent utilities, more people must master on how to use it to ensure efficiency and safety.
What is thermal relays?
Thermal relays are an important electrical device used to protect motors and electrical circuits from overload. In industry, this device is attached to the contactor. The thermal relay does not work immediately according to the current value because there is a large thermal inertia that requires broadcasting time.
The structure of the thermal relay is quite simple, including the following parts:
– Lever
– Close contact
– Open contact
– Screw adjustment of electric current impact
– Bimetallic bar
– Heating wire
– Lever
– Recovery button
The basic element of a thermal relay is a double metal blade (bimetal) made of two metal plates. One plate expandes small (usually using invar with 36% Ni, 64% Fe), a large coefficient of expansion. By hot rolling or welding method, these two slabs will join together into one.
How does thermal relays work?
Thermal relays operate based on differences in the long expansion of two metal plates when heated.
Specifically, when heated by the I current, the double metal plate bends towards the metal with a smaller expansion coefficient, which can be used directly for the surrounding current or resistance wire.
For large bends, a metal blade must be large and thin. In case of a strong force, a large, thick and short piece of metal must be fabricated.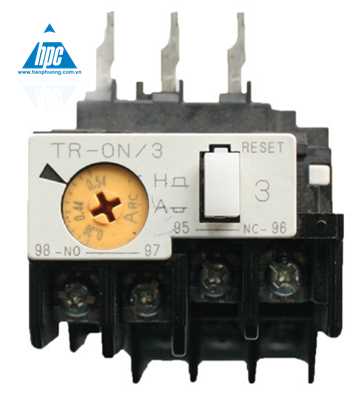 Understanding how to use thermal relays, users will no longer be anxious to choose this product
How to choose and use thermal relay effectively and safely?
As an effective assistant in the protection of electrical equipment without overload, thermal relay is currently a device trusted by many individuals and businesses with the desire to minimize incidents caused by electric overload.
However, like other products, thermal relays only fully utilize their features as well as ensure efficiency and safety when knowing how to select and use this type of device.
In order to choose the right thermal relay, customers need to grasp the basic characteristics of this device as the time – current characteristics (A-s for short).
Note when selecting thermal relays
Thus, when selecting the thermal relay we need to pay attention so that the A-s characteristic line of the relay is close to the A-s characteristic line of the object to be protected.
On the other hand, we also have to calculate the rated working current of the motor and it is impossible to ignore two important parameters: the working current and the product line that are suitable for contactor.
Similar to calculating the current for selecting contactor, we calculate the rated current, then select the following:
– Idm = Itt x 2
– Iccb = Idm x 2
– Ict = (1,2-1,5)Idm
Above are the necessary conditions for customers to choose and use thermal relays efficiently and safely.
Besides, you should also choose to buy products in reputable and reliable locations.
Currently, Hao Phuong Company is a leading importer and supplier of industrial electrical products – automation, including thermal relays.
Customers wishing to find out information about thermal relay please contact:
Hao Phuong Co. ltd
Address: 88 Vinh Phu 40 street, Hoa Long town, Vinh Phu ward, Thuan An, Binh Duong
Hotline: 18006547 (free advice)
Email: cs@haophuong.com
Website: www.en.haophuong.com
Fanpage: www.facebook.com/haophuongcompany
Hao Phuong is currently an importer and distributor of industrial electrical equipment with major brands in the world such as IDEC, FUJI ELECTRIC, TOGI, KANSAI, NICHIFU, CIRCUTOR, HONEYWELL, TAIWAN METTERS, Bin Master, …  At the same time, Hao Phuong was also the leading industrial system integrator in Vietnam.