Price list book 2014 – 2015 Hao Phuong Company was born to mark the outstanding development of Hao Phuong Co., Ltd. in the cooperation and distribution of automatic, automated, electrical products and especially, the measuring equipment, one of Hao Phuong's new product lines.
2014 – 2015 Price list of Hao Phuong Company was officially launched on September 29th. Update the most accurate information on prices of products of FUJI ELECTRIC, IDEC IZUMI, CIRCOTOR and KANSAI AUTOMATION.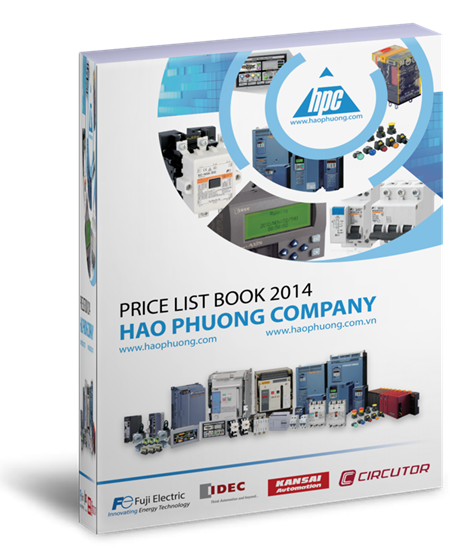 Price list book 2014 – 2015 Hao Phuong Company is designed professionally and impressively. There are many changes from form to content, especially the added English version. This is the difference and innovation in this year of Hao Phuong not only targeting the domestic market but also reaching out to the international market.
Most importantly, Price list book 2014 – 2015 Hao Phuong Company is revised, updated with the latest prices on the market. Especially, add products of CIRCUTOR (SPAIN). This is one of the leading European companies specialized in providing electrical monitoring, measurement and control products. KANSAI AUTOMATION (JAPAN) Group – the leading manufacturer of measuring equipment in Japan.
Hao Phuong is currently an importer and distributor of industrial electrical equipment with major brands in the world such as IDEC, FUJI ELECTRIC, TOGI, KANSAI, NICHIFU, CIRCUTOR, HONEYWELL, TAIWAN METTERS, Bin Master, … at the same time, Hao Phuong was also the leading industrial system integrator in Vietnam.