Hao Phuong's automatic bagging Robot (Open mouth Bagging automation – OMBA) will be present at the 2018 VIMAF & VSIF exhibition. The robot arm demonstrates its ability to work smartly and effectively.
Come to VIMAF & VSIF 2018 exhibition, Hao Phuong uses 2 robots including 2 latest 6-axis Small robot lines of Yaskawa (Robot 1), KUKA (Robot 2). They are programmed and applied in industry, automatic bagging robot systems in animal feed factories, rice production, wheat flour, sugar, fertilizer, cement,…
The industrial robot control system allows the robotic arm to become a complete structure, doubling its performance and being fully applicable on existing bagging lines, taking full advantage of all conveyors and bag sewing equipment, which are available to optimize costs.
Automatic bagging system by robot.
The system of automatic opening and bagging is applied to all types and sizes of bags, combined with traditional weighing and bagging system or valve type weighing and bagging systems. The system is suitable for 5-50 kg bags.
Special features.
– Productivity can be up to 18 bags per minute
– Can be integrated sewing bag stitches automatically.
– 7-inch control screen of Mitsubishi, Siemens, AB PLC
– Yaskawa, KUKA 6 -steps Robot & controller PLC
– The grip arm is controlled by servo
– Clamping mechanism on the robot arm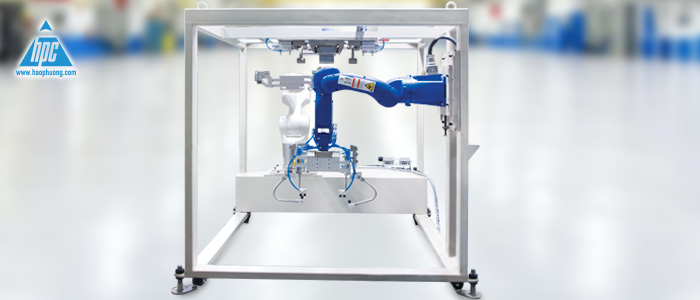 Bagging robot (illustration)
Advantages of using robots to replace workers.
– Heavy, boring, repetitive or requires high accuracy jobs, Robot will be a great employee and will never complain.
– Industrial robots do not need to rest, never lose focus and rarely make mistakes if being maintained properly. Can operate 24 hours a day and seven days a week with 100% productivity without special supervision or maintenance.
– 1 Line of typical cattle bran production
| | | |
| --- | --- | --- |
| Cattle bran (25kg bag) | Worker | Robot |
| Worker / day (3 shifts) | 9 | 2 |
| Capacity  | 20 – 22 tons per hour | 22 – 25 tons per hour |
Manual labor productivity graph between robots and workers
Bagging robots at a factory ( illistration)
3 Workers standing in a bagging line of finished products (illustration)
Hao Phuong understands the different needs and conditions of customers and partners. We have been striving to continuously develop industry 4.0 automation solutions to help future factories grow to a new heights. Please visit and experience our solution at VIMAF & VSIF 2018 exhibition.