In this October, Hao Phuong Company will organize a periodic health checkup for all officers and employees of the company.
The purpose of the periodic health examinations
A health examination is an annual activity. The board of directors of the company makes it possible for all health screening staff to be completely free. This activity helps everyone understand their own health situation. It also contributes to creating a healthy working environment. From there the job can operate smoothly and achieve high productivity.
The information you need to know about this periodic health examination
Location of examination
BECAMEX International Hospital

Address: Go Cat Area, Lai Thieu Ward, Thuan An Town, Binh Duong Province.
Time to deploy periodic medical examination
From October 1 – October 31, 2019.

Exam time: Monday morning to Friday morning (only in the morning)
Notes before the health examination
Periodic health checkups need to be at the hospital before 07:15.

The examinee must abstain from breakfast, can drink filtered water, in addition, do not drink any other kind of beverage. For example, coffee, milk, soft drinks …

Please note to bring the identity card when visiting.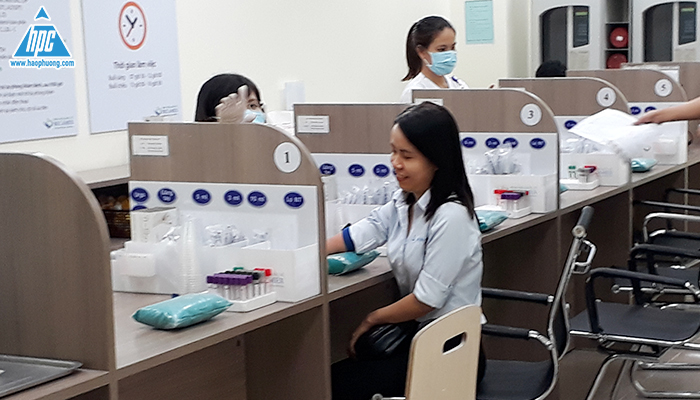 All Hao Phuong company employees will be held a periodic health examination in October
Medical examination process at BECAMEX International Hospital
Step 1: Be present at 7:15. The examiner informs the hospital guards that a group health exam is preferred. Then check in Counter 11 or Counter 12 area A (bring ID) to get the order number.
Step 2: Internal examination in Room 13 or Room 15 of Area A (as assigned by the).
Step 3: After the internal examination, take your appointment through Zone B. Then the examiner takes the X-ray number and ultrasound.
If you arrive at the order, you will enter immediately to perform an ultrasound and X-ray.

If it's not your turn then continue to take the other check.
Step 4: After completing the items, the examiner submits the paper in the last room or returns to counter 15 (Next to the counter to get the number), casting the ballot into the basket. Here the health examination has been completed.
The periodic health check is an activity to show the concern of the staff of Hao Phuong company leadership. We hope everyone fully participates for their own benefit.