About TOGI
TOGI Group (TOYOGIKEN) was established in 1971 under the leadership of Takashi Hanaoka, mainly producing electrical equipment accessories. With the mission of leading the development of high-tech technology research, the production line is followed by advanced modern processes, using machines primarily.
Currently, TOGI has more than 10 branches in Japan and more than 7 branches spread across Asia. TOGI products receive many patents and certifications.
About Hao Phuong
Being the official distributor of TOGI since 2016, Hao Phuong always offers strategies to promote product promotion to consumers. With the desire to bring consumers the best quality products, the most reasonable price.
Until now, TOGI products are always well received by customers. This is also a testament to the strong cooperation between Hao Phuong and TOGI.
All TOGI products distributed by Hao Phuong have a certificate of origin (CO) and a certificate of quality (CQ).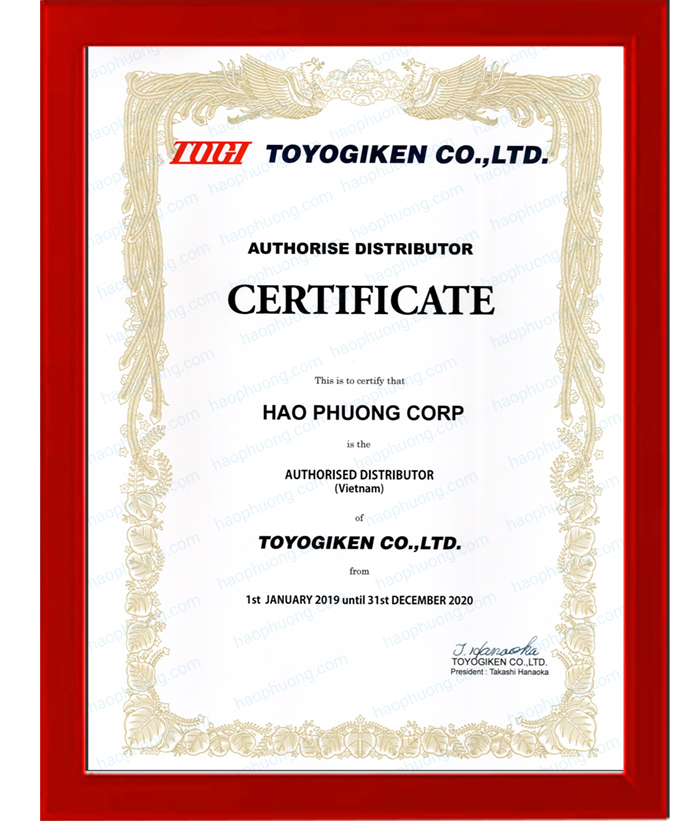 Certification of Hao Phuong is a TOGI equipment distributor
To purchase goods, customers can contact Hao Phuong's hotline: 1800 6547
+ Southern region: 1800 6547 press 1.
+ Northern region: 1800 6547 press 2.
Or go directly to the address:
HAO PHUONG CORPORATION
Binh Duong headquarters
Address: No. 88 Vinh Phu Street 40, Kp. Hoa Long, P. Vinh Phu, Thuan An, Binh Duong.
Hanoi office
Address: No. 95 TT4 – KDT My Dinh Song Da – My Dinh Ward – Nam Tu Liem District – Hanoi