"HẠO PHƯƠNG – A company where I dedicated my youth and lived with passion, contributed a small part of my own capacity to create collective strength". This is one of the feelings of an ex-employee. Although already quit his job at Hao Phuong, his love for the company and everyone is a "Great piece of memory". Let's go along with his "Great piece of memory" in the text below.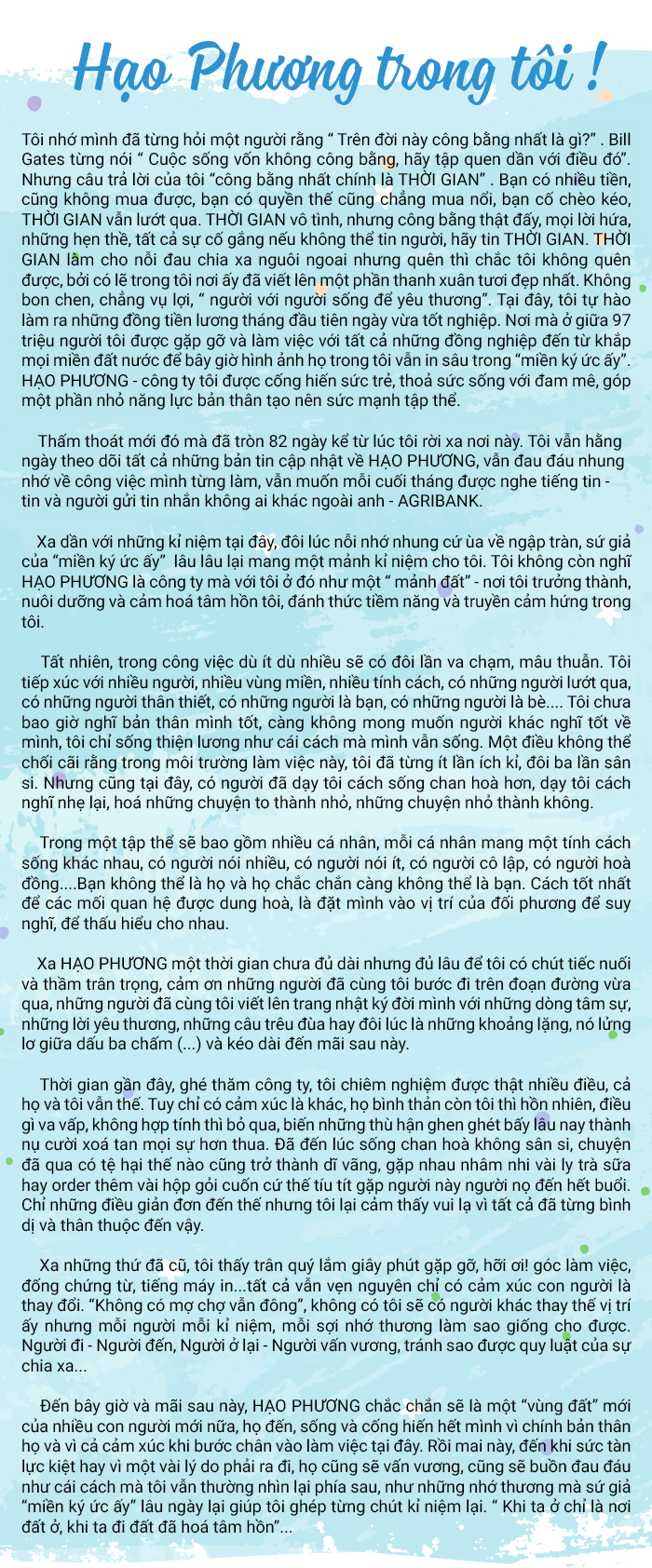 " Hạo Phương in my heart
I remember a time when I was all asking this question: "What is the fairest thing in this world?" Bill Gates once said: "life is not fair, get used to it". but my answer is: " the fairest thing in the world is TIME". You can't buy time even if you have an unlimited amount of money or power. Regardless of how much you struggle, TIME still passes. Time is ruthless, but it's truely fair. All of the promises, the vows, the struggles to trust in a person but it's fail? put your trust in TIME! TIME  can make the pain of separation go away, but still, I couldn't forget that place, because, in my heart, that place had turned into one of the most beautiful memories in my youth. No scrambling or self-interest, " just people live with each other because of love". Here, I was proud of my first salary which I earned by myself after I graduated university. The place wherein between 97 million people, I met and worked with colleagues from all over the country so that even right now and maybe for eternity, those images of them will still in my "piece of memory". Hạo Phương – A company where I dedicated my youth and lived with passion, contributed a small part of my own capacity to create collective strength.
It was 82 days since I left this place. I still keep track of all the updated news about HAO PHUONG, still remembering the work I used to do, I still want to hear the ring-ring sound and the message which was sent by none other than AGRIBANK at the end of every month. 
Far away from the memories here, sometimes the nostalgia keeps on flooding, the messenger of "that great piece of memory" brings those feelings to me. I no longer think HAO PHUONG is a company, to me, it's a "land" – where I grew up, nurtured and touched my soul, awakening potential and inspiring in me.
Of course, at work, though more or less, there will be times of conflict. I interact with many people, many regions, many characters, people who pass by, people who are friends, people who are sidekick… I never thought of myself well, the more I don't want others to think well of me, I just live a good life like the way I still live. It is undeniable that in this working environment, I have been selfish, sometimes, but here, someone taught me how to live more peacefully, taught me how to think lightly, turn up big things into small things, small things become zero ".
In a collective, there will consist of many individuals, each with a different personality, someone who talks a lot, people who are taciturn, someone who is isolated, has a partner …… you can't be them and they definitely cannot be you. The best way for relationships to be reconciled is to put yourself in the position of the other person to think about, to understand each other.
Far away from HAO PHUONG for a long time but not long enough for me to have a little regret and cherish, thank those who have walked with me on the last road, those who have written with me on my diary with confidences, words of love, jokes or sometimes silences, it floats between dots (…) and lasts forever.
Recently, visiting the company, I experienced a lot of things, both they and I were the same, although, only feeling is different, they are calm and I am innocent, what stumbles or not appropriate then ignore it, turn this long hateful hatred into a smile that erases everything more than lost. It is time to live peacefully without anger, how bad things have been and become past things, meet each other for a few glasses of milk tea or order a few extra salads and so on to meet these people one after another. Just simple things like that but I feel happy because all of them were so simple and so familiar.
Far from old things, I appreciate the moment of meeting, my dear! working corner, the pile of documents, printer sounds … all are still intact, only human emotions are changed,  without me, there will be someone else in charge of that position but each person has their own memory. People who go – people who come, people who stay – people who wondering, how can you avoid the rules of separation.
Up to now and forever, HAO PHUONG will surely be a new "land" of many new people, they come, live and devote themselves to themselves and for their emotions when working here. Then tomorrow, when the power is exhausted or for some reason to leave, they will also question, it will be sad and painful as the way I often look back, like the love that the messenger of "That great piece of memory " has helped me to assemble a few memories for a long time, "when I stay, it only a land, when I leave the land has turned into my soul" …..