In February 2019, Hao Phuong started a project to install a system of 7 Automatic palletizing robotic systems. This project is implemented for C.P Vietnam Livestock Joint Stock Company. More specifically, Ben Tre Fisheries Feed Production and Trading branch. Up to now, the project has been officially completed.
Hao Phuong pioneered to address challenges in the industrial age 4.0 through robotic solutions
The application of technology to create competitive advantage is now applied by many businesses. However, this also creates a challenge on investment costs for businesses. In the current context, that challenge has been reduced. The reason is due to the rapid development of technology. As a result, businesses can compete in the industrial age of 4.0.
Hao Phuong is a company that always accompanies businesses in solving challenges. One of the high-tech areas invested by the company is now robots. In the project of installing 7 automatic robot folding systems for C.P Vietnam branch, the robot arm must be imported from Europe, America and Japan. All other components are processed domestically.
In particular, Hao Phuong focuses on investing in a professional design software system. Together with a team of well-trained engineers. This proves our ability in the installation of robot systems. Enterprises cooperating with Hao Phuong can significantly reduce investment costs. For example, hiring consultants to install, cost of transporting and installing components … This helps to save a considerable budget for companies.
Benefits when applying robot systems to automatic production
Some of the benefits of using robotic systems in automated systems include:
Reduce labor costs.
Reduce the task of managing people in the production process.
Improve the quality and uniformity of products.
Connect all production stages into enterprise management software (ERP).
In addition to providing/selling the entire system, Hao Phuong also provides automated robot rental service packages according to the needs of customers.
Hao Phuong completed and put into use 7 palletizing robot systems at C.P Branch in Ben Tre
Hao Phuong started this project from February 2019. The technical team worked hard with high enthusiasm and concentration. Especially during the Lunar New Year, the brothers and sisters still did not take a break to ensure the work progress. Together, they have overcome difficult conditions to achieve their common goals. Many items are completed in turn. For example, installing robots, installing conveyor belts, wiring connections …
By the end of the last 7/2019, Hao Phuong has completed and put into practical use 7 automatic robot folding systems. This robotic system combined with 15 lines produces shrimp bran. All of them belong to Ben Tre aqua feed factory. This robotic system helps the factory cut 180 workers for 3 production shifts – just to put each bag of finished bran on a pallet.
Below are some photos recorded during the completion phase of the 7 automatic bagging system project for C.P Vietnam branch: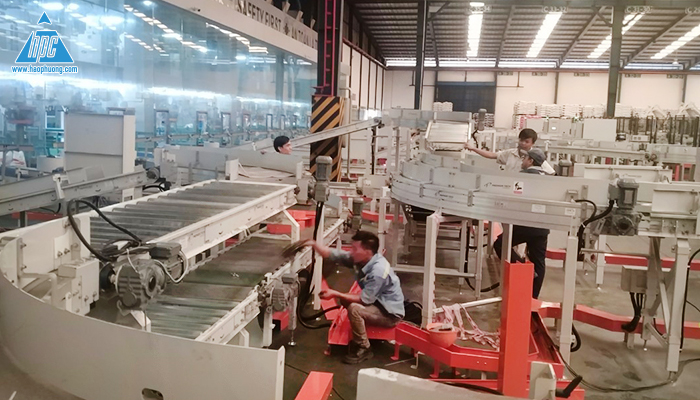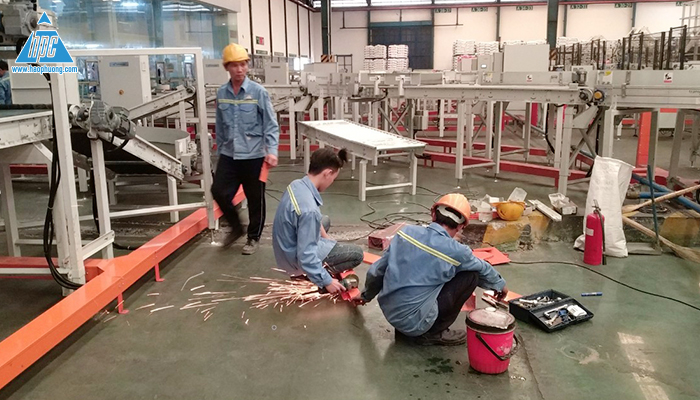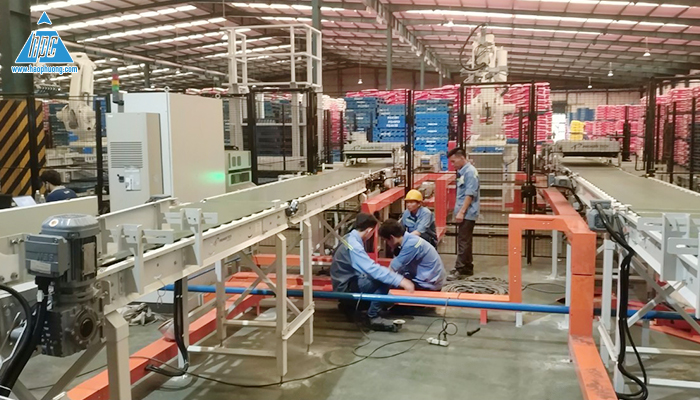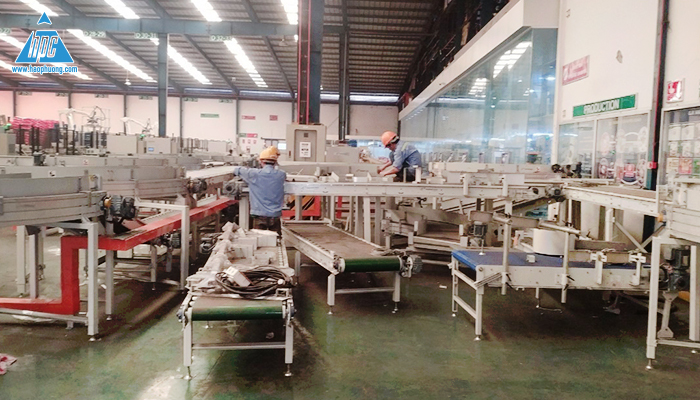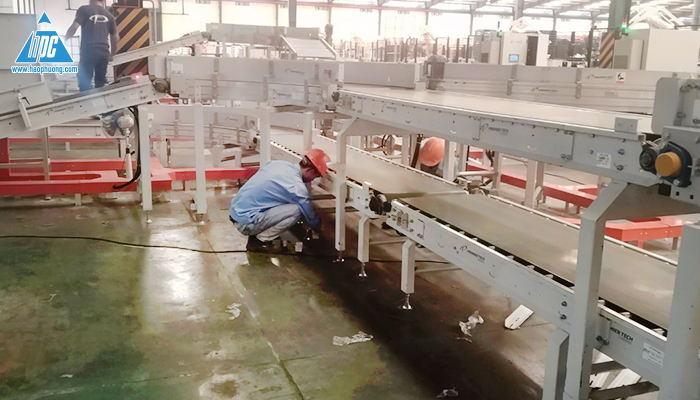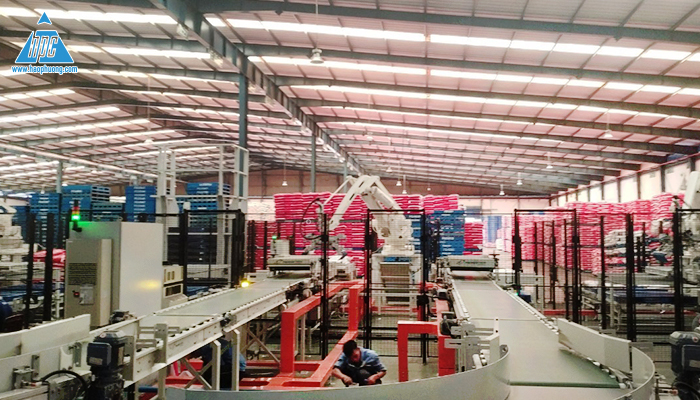 Hao Phuong team was urgently processing and installing components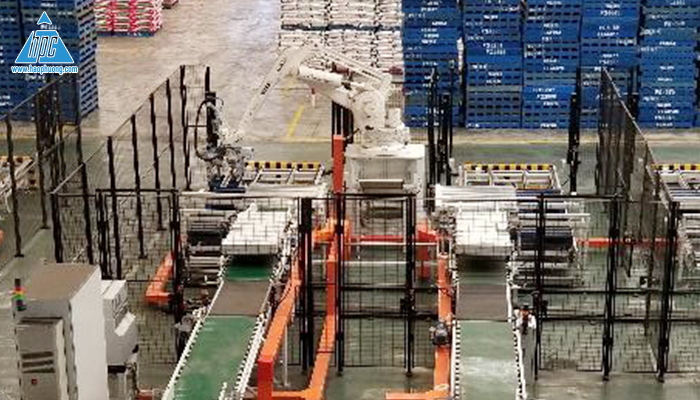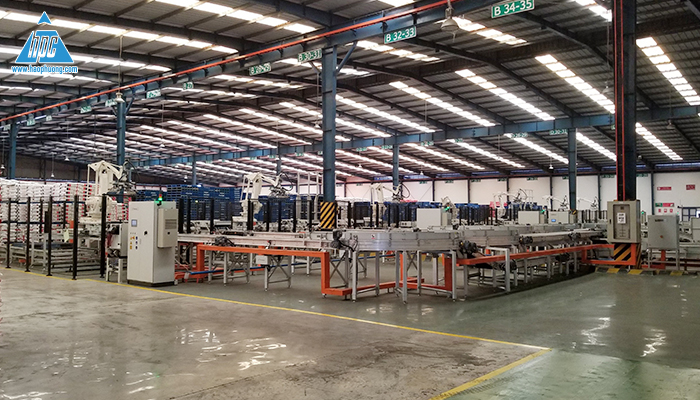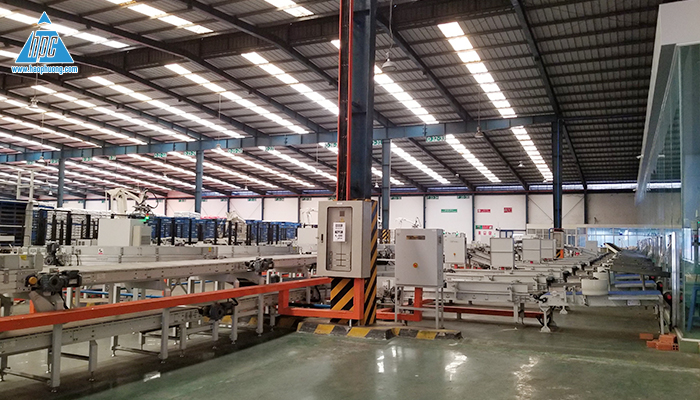 Images of production lines after the project is completed
Conclusion
Completion of the project of installing 7 automatic robot folding systems for C.P Vietnam branch is an important premise. It helps Hao Phuong continue to improve and develop robot solutions. Since then we have the opportunity to best serve our customers. Hao Phuong is confident that he has the capacity to accompany customers. Especially on the path of industrial integration 4.0 with many challenges ahead.