IoT is gradually becoming a trend that plays an important role in the development of current technology. In this article, let's explore the solutions that Hao Phuong is researching and implementing to apply IoT in production and business activities.
IoT – future technology trend
What is IoT?
IoT stands for Internet of Things. It is a system of devices connected to each other over the Internet. They are able to exchange and transmit information and data efficiently and conveniently through the Internet. Especially this exchange does not need direct interaction between people and devices. Or even between people. That means when all devices are "Internetized", with just one smart device, users can control them anytime, anywhere. This control is not limited to time and space.
Potential devices are being deployed in conjunction with IoT
Smart home
The smart home can be said to be a strongly developing housing trend. So how is a smart home understood? You will be able to turn on the air conditioner, heater before going home. You can even turn off the lights when you're not at home, open the door for friends to play while you're still at work. All these things can be done remotely using IoT. Currently, companies are producing more and more those smart devices. They are increasingly helping human life simpler and more convenient.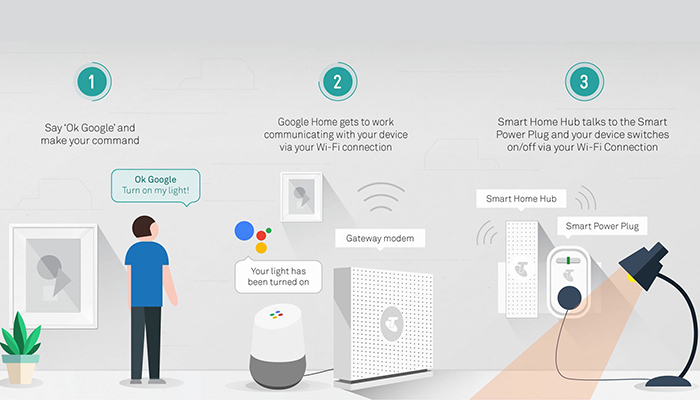 Image simulating Google Smart Home system
Smart wearable devices
There are now many smart wearable devices with the ability to handle complex tasks. For example, measuring your heart rate, step counting, walking distance. These devices can also support the use of your smartphone. These include the smart watch, smart band, Bluetooth headset, etc. They are increasingly popular in the market. Apple, Samsung and Xiaomi are big brands focusing on investing in these devices. Prerequisite for wearable devices is generally extremely small capacity (for long-term use), compact size. At the same time, they also need a high aesthetic.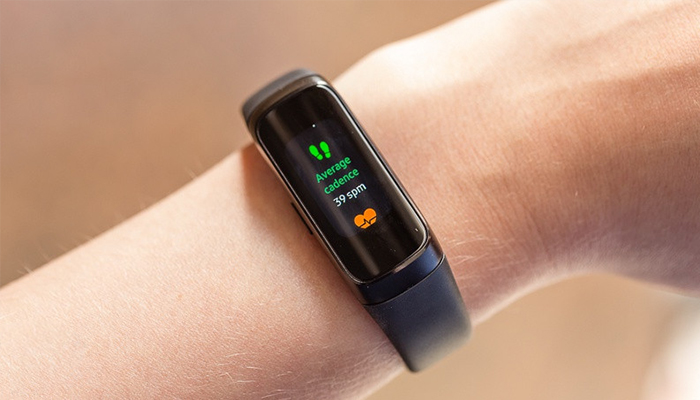 Samsung Galaxy Fit smart band
Smart car
Car manufacturers have stepped through the focus phase to optimize the internal functions of a vehicle. They are now interested in optimizing the user experience to increase user satisfaction.
A connected car is a vehicle with high optimization capabilities with many automated technologies. At the same time, they need to create the most comfortable for passengers on the car. Big brands such as BMW, Tesla, etc. are making efforts for the next revolution of the automobile manufacturing industry.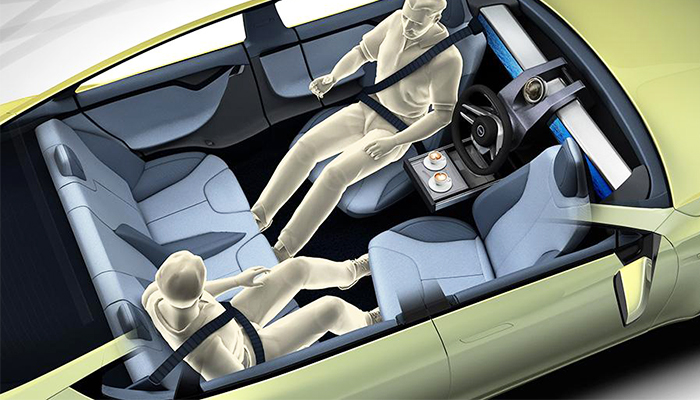 A self-driving car concept
Industrial Internet 
Industrial Internet is a new buzz in the industry. It is also abbreviated as IIoT (Industrial Internet of Thing). IIoT supports industrial engineering with sensors and software. They contribute to creating extremely intelligent machines. Machines will be more accurate and consistent than people in communication through data. From the collected data, companies and managers have the ability to solve problems earlier, achieve higher efficiency.
IIoT has great potential for quality control and sustainability. Applications that exchange information between suppliers, distributors and retailers. They are information about goods and inventory. They will increase supply chain efficiency.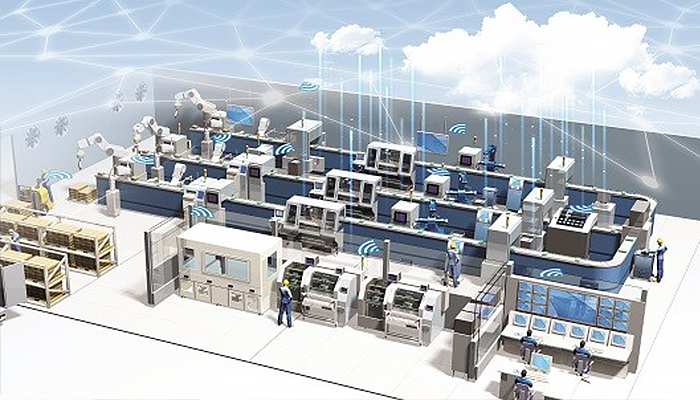 IIOT model (Industrial Internet)
IoT and poultry farming, farm production
Controlling the stages in the breeding process saves time and costs. The use of IoT tools to collect animal health data is being promoted. As a result, farm owners can know early about the disease of cattle. From there they can prevent virus-induced plague on a large scale. With the data collected, farm owners can quickly increase the production of cattle and poultry. As a result, the profit gained will increase.
Hao Phuong is always ahead of the technological revolution
With the spirit of dare to think, dare to do the whole team, Hao Phuong is conducting research on solutions to breakthrough IoT applications in the industry. These solutions are to meet the increasingly urgent needs of the market. The total solutions built by Hao Phuong are based on the IoT platform and industry 4.0. They have solved many problems. The most important is the problem of reducing costs for businesses. They include the cost of hiring workers, maintaining, investing more technology, machines …
The operation process of the automatic bagging robot system, self-propelled vehicle AGV and folding robot on a pallet that Hao Phuong is deploying
Application solutions of IIoT by Hao Phuong
The IIoT application systems that Hao Phuong is deploying include 3 types of robots. they are a palletizing robot, a mouth opening & bagging robot and a self-propelled robot AGV. These systems are closely monitored by specialized management software. This feature helps limit human intervention, meets high reliability, efficiency and safety.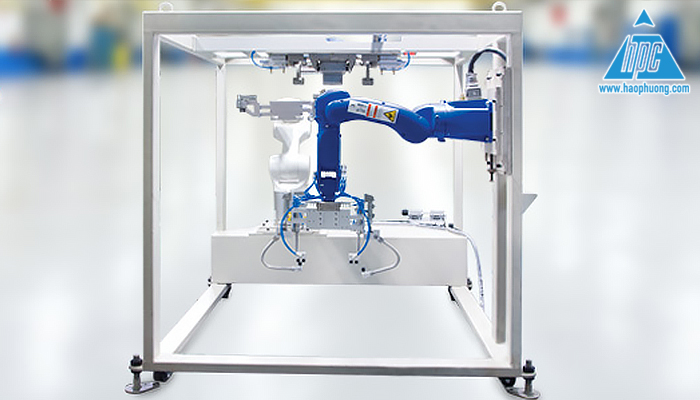 a mouth opening & bagging robot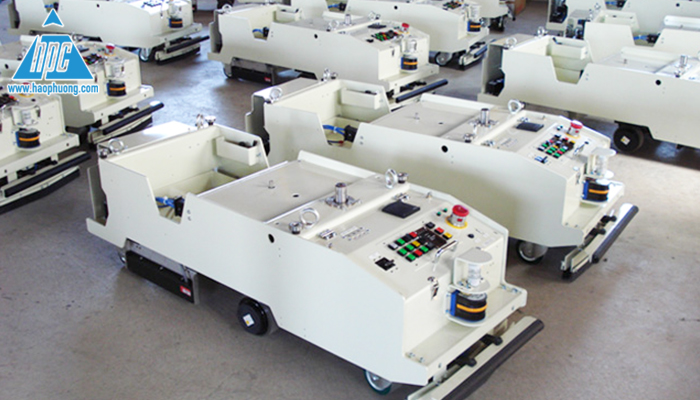 a self-propelled robot AGV
a palletizing robot
IoT will become a future technology trend
The growing IoT in the industry is increasingly demanding high adaptation and automation. It will become an inevitable trend in the world.
According to CISCO (a large US technology corporation), 4 billion people will connect with each other through IoT (2020). There will be more than 25 million applications; more than 25 billion smart systems and embedded systems; 50 trillion Gb materials were created. With the successes until now, IoT is expected to create a new economic boom. (Source: gsmarena.com, mysmahome.com, smartgridnews.com).
Hao Phuong has been operating for many years in the industry in general and system integration in particular. With our experience, we believe that we will bring products that meet our customers' needs. Our products also help customers create a great competitive advantage in the market. Especially in the context of industry 4.0 and IoT is developing strongly today.
Beeteco.com is the e-commerce channel of Hao Phuong Corporation, specializing in distributing and trading industrial electrical equipment of many prestigious brands in the world.
Want more advice on the product? => Call us immediately via Hotline: 1800 6547
Or leave your contact information, we will contact you as soon as possible!