Certified Hao Phuong is Honeywell HVAC product distributor
Honeywell – The leading manufacturer of industrial equipment in the US and worldwide. Honeywell has more than 100 years of experience in manufacturing industrial equipment. Referring to Honeywell – we think of a "giant" manufacturer with a wide variety of products in many fields of technology and industry.
One of them is HVAC (Heating, ventilation and air conditioning) products such as Actuator Damper, Thermostat, Sensor, air filter, heat sensor, flow switch, …
With many years of experience in distributing electrical automation products, Hao Phuong was honored to be certified as a distributor of HVAC equipment from Honeywell. This certification is an affirmation of the value and encourages our efforts in giving our customers the best products.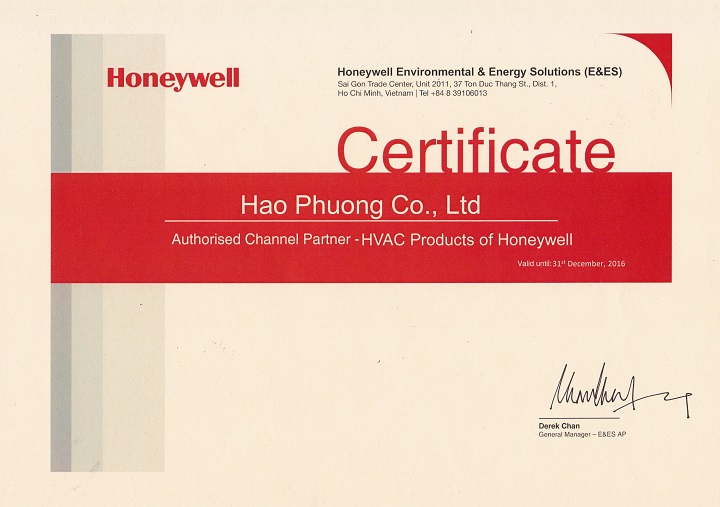 Certified Hao Phuong is Honeywell HVAC product distributor.
Please contact the call center Hao Phuong: 0379001367
North Region customers: 1800 6547 press 2.
Or go directly to the address:
HAO PHUONG CO., LTD
Headquarters
Address: 88 Vinh Phu 40 street,  Hoa Long town, Vinh Phu Ward, Thuận An, Bình Dương.
Hanoi office
Address: 95 TT4 –  Mỹ Đình Sông Đà urban area – Mỹ Đình ward -Nam Từ Liêm district- Hà Nội
to be adviced and consulted on genuine equipment distributed by Hao Phuong.