IDEC is a famous corporation in Japan and in the world. By being imported and distributed by Hao Phuong since 2006, IDEC has been becoming one of the biggest, reputable and top quality brands in Vietnam in the field of Electrical automation.
IDEC product lines that are currently being distributed by Hao Phuong, including: Button, relay, timer, SLC, PLC, HMI, …
Hao Phuong has been continuing to promote business activities such as marketing activities; participating in exhibitions, holding seminars, … To promote IDEC products to Vietnam market. Wishing Vietnamese consumers to use quality products at the most reasonable price.
IDEC products have accounted for the trust of Vietnamese consumers because of the outstanding quality and comprehensive care offered by Hao Phuong.
All IDEC products distributed by Hao Phuong have certificates of origin (CO) and certificates of quality  (CQ).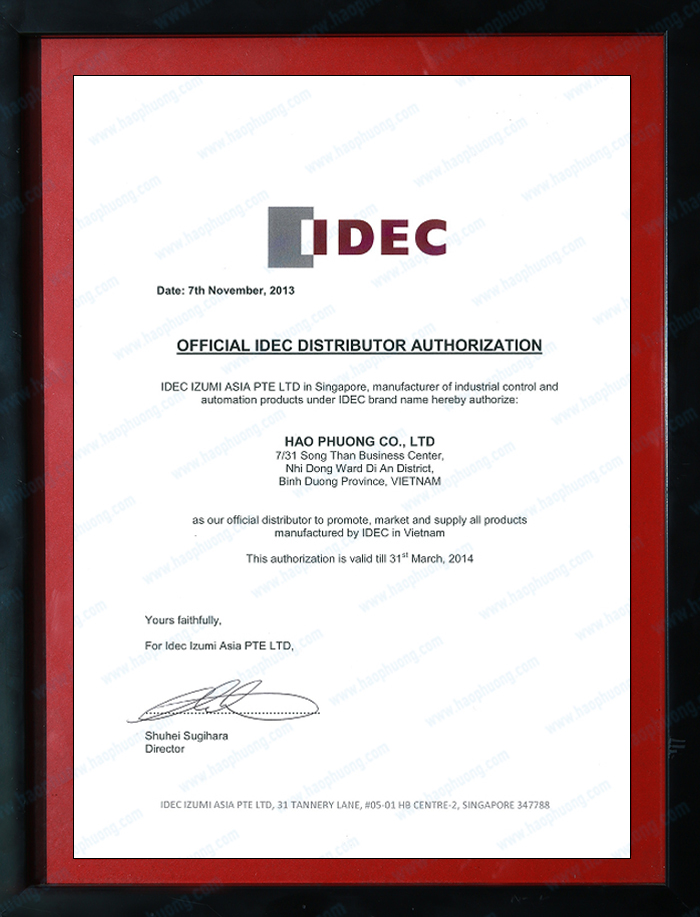 Certificate of Hao Phuong being a distributor of IDEC
For purchasing, customers can contact Hao Phuong's Hotline: 1800 6547
For customers in the Southern Region: 1800 6547 press 1.
For customers in the Western Region: 1800 6547 press 2.
Or come directly to the address:
Hao Phuong Corporation
Head Quarter:
Address:  88 Vinh Phu 40, Hoa Long Town, Vĩnh Phú ward, Thuan An, Binh Duong.
Hanoi Office:
Address: 95 TT4 –  My Đinh Song Đa Urban Area- My Đinh  ward- Nam Tu Liem District- Hanoi
To be received advice and guidance on genuine equipment distributed by Hao Phuong.