In early 2019, Hao Phuong organized the renovation of his brand identity kit in a more professional and comprehensive way.
In 2018, Hao Phuong planned and implemented many important strategies such as implementing KPI system – 3P salary, deploying ERP system, changing business model to shares, … to pay more attention to Employee life and help the company develop sustainably in the future with the principle: "Manpower is the most valuable asset, the key to success".
Hao Phuong brand identity kit with blue tones as the main theme
Blue: the color symbolizes belief, hope and wisdom were chosen as the main color with the desire of "a company like a friend, a reliable and intellectual partner in the industry". Especially blue is the color that inspires employees to work more effectively.
With the implementation of a comprehensive brand identity kit, Hao Phuong wants his image to become more professional, different and recognizable to customers.
The brand identity kit also makes Hao Phuong's team feel more proud, want to stick for a long time and strive to build a more professional brand.
Some pictures of the identity of Hao Phuong brand: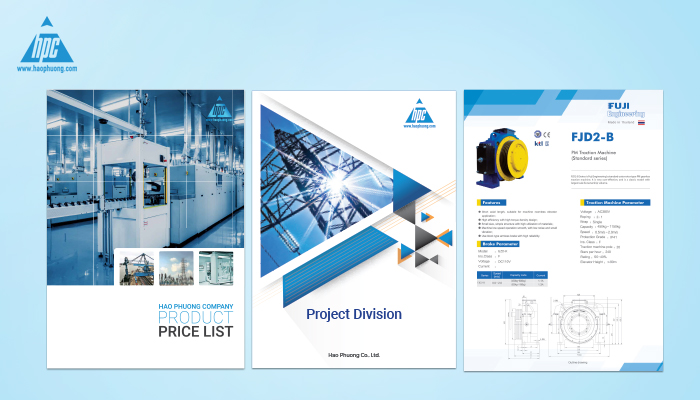 Price List – project – flyer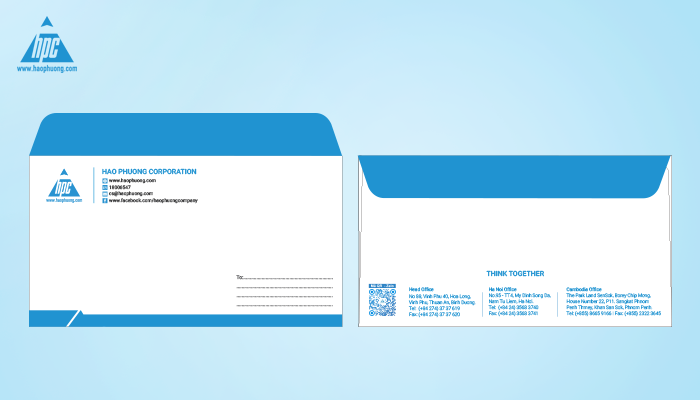 Envelope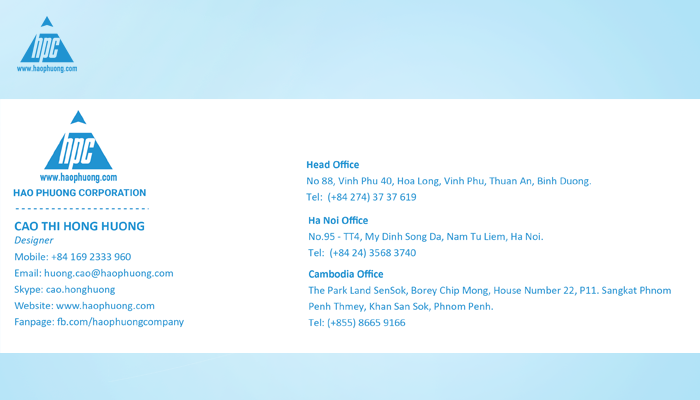 Digital signature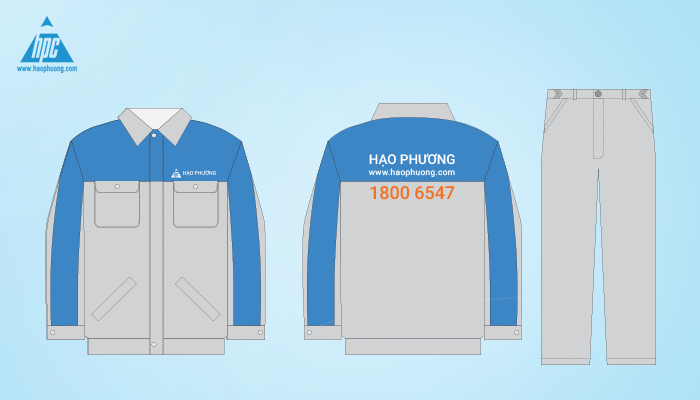 Uniform for the R&D team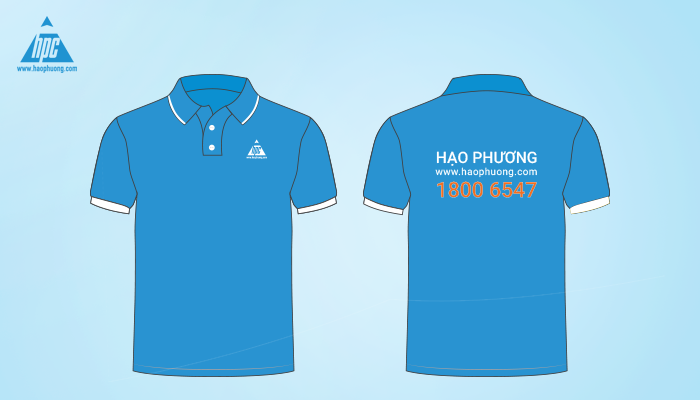 shipper uniform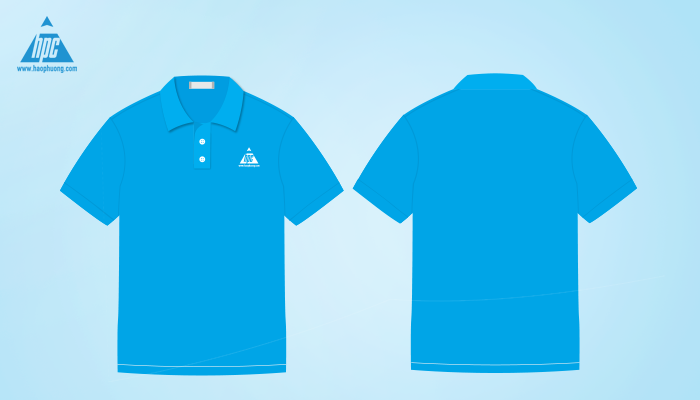 Uniform for warehouse staff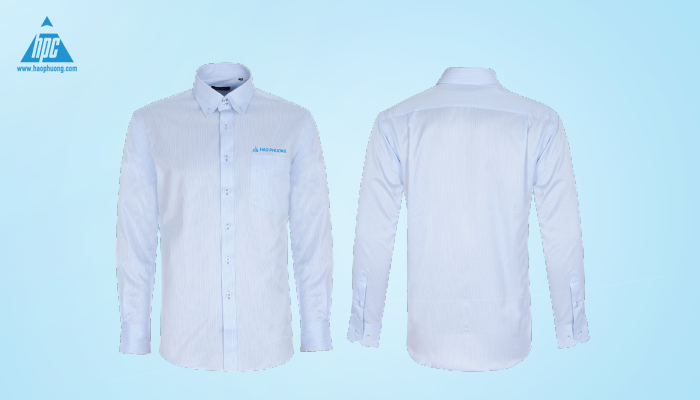 Uniform for office staff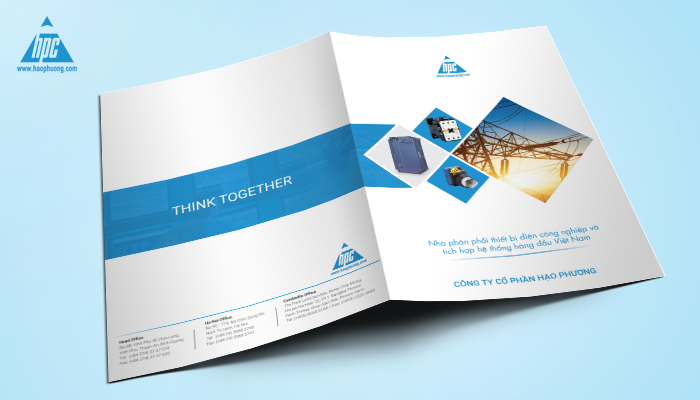 Clip folder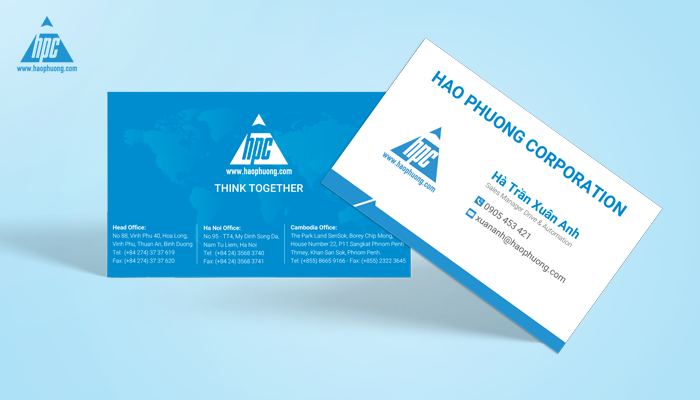 Name card
It not just a visual value
With the desire of our brand is not only the recognition but also the closeness, the style, the trust of partners, customers, … Hao Phuong's brand identity kit has both the spirit and culture. demonstrate the core values of the company: "Integrity – Prestige – Responsibility – Creativity – Trust".
1 – Hao Phuong wants employees to become more friendly to each other through behavioral and greeting culture whenever there are partners, customers visit the company or when employees go to welcome customers.
2 – Hao Phuong wants to accompany customers with the motto: "Think together" – Think together, act together and head towards the future.
3 – Hao Phuong hopes to contribute more value to society through quality products, through bold revolutionary solutions 4.0 and through contributions to society such as charity, giving scholarships and talents support,…
After 14 years of establishment, the change is consistent and consistent from culture, style, working process to clearer brand image in the perception of customers and partners. It is the continuous effort of Hao Phuong in improving development processes and strategies with the desire to bring the best products and services to customers.