What is the level sensor and indicator?
The level sensor is a device used to determine the level or amount of liquid or other substances flowing in an open or closed system. There are two measurement methods: continuous measurement and point measurement. Point level sensors are used to measure liquid levels. This device is capable of measuring to a specific limit and providing accurate results. However, the point level sensor can only determine the liquid level in two states: high or low.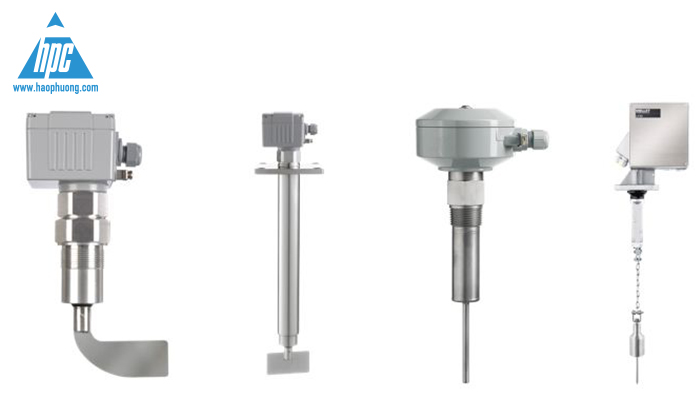 Some types of level sensors and indicators.
Level sensors are usually connected to an output unit. Then the measurement results will be transmitted to a monitoring system. Current technology can use wired or wireless data transmission to the monitoring system. This is useful in case the operator is difficult to access high and dangerous positions for installation.
Level indicators are often diverse in types and ways of operation to suit each industry. For example, Rotary level indicators, Capacitance probes, Vibrating rod,… In which the rotating type is the most commonly used. Especially in powder products factories. Examples include sugar, animal feed,…
KANSAI level sensors and indicators
KANSAI AUTOMATION is a manufacturer of level sensors and indicators from Japan. With 50 years of establishment and development, Kansai level sensors and indicators have become popular in many countries around the world. They receive many very positive reviews from users.
Hao Phuong would like to introduce information about Kansai Automation's rotary level indicators. Hope customers have more useful information about this device.
Operation principle of KANSAI level sensors and indicators.
When operating, inside the rotating level indicator has a moving motor. This motor continuously rotates the shaft and wing. When an object acts on a rotating wing that stops it, a force is generated. This force acts on an internal switch that causes the motor to stop spinning. At the same time, it impacts another switch. From there, the signal of a solid state level is generated.
Outstanding features of KANSAI level indicators.
Automatically disconnect the motor power when the impact contact is applied.
Easy to install and use.
Available in many types that can withstand high temperatures and heavy loads.
The clutch mechanism prevents damage to the gears.
Casing: meets the IP66 waterproof standard.
Product of Japanese origin, 12 months warranty.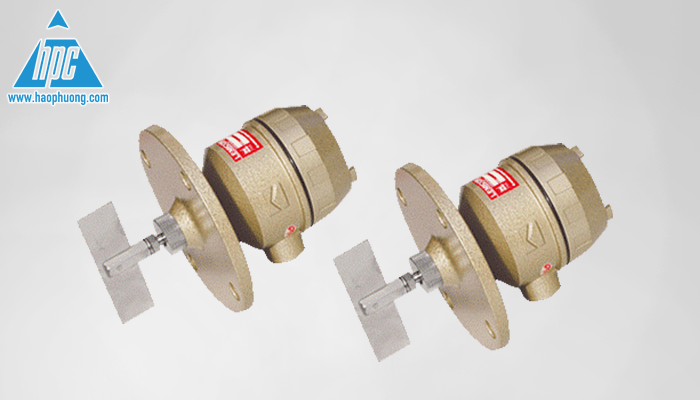 NM-SC Series – Standard type 
Some noteworthy information about KANSAI level indicators:
Technical specifications:
Power supply: 100 – 110VAC or 200 – 220VAC, 50 / 60Hz.
Power consumption: 4W.
Switches: SPDT, 250V AC 10A, 30V DC 10A.
Operating temperature: 0 ~ 50 ° C (standard type).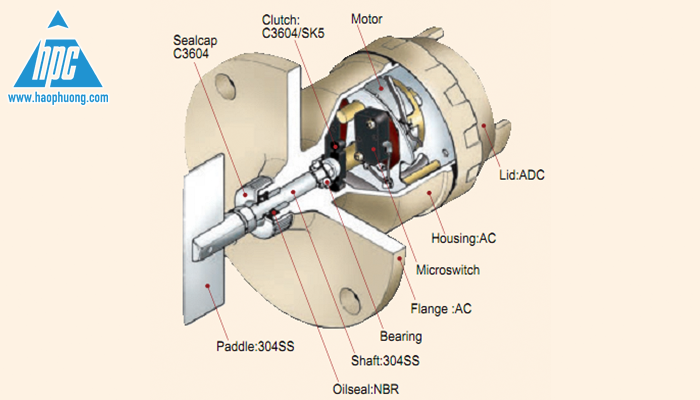 Structure of Kansai level Indicators.
Application:
The factory produces powdered products: cement, coal powder, soap powder, wheat flour, milk powder, sugar, animal feed …
The factory produces granular products: plastic pellets, chemical fertilizers, rice, medicines …
Hao Phuong is pleased to supply Kansai level Indicators for C.P factories in Vietnam
Referring to the feed mill, not to mention the C.P Group. This is the world's largest producer of animal feed. C.P Group is also one of Asia's largest private corporations locate in Thailand. C.P Vietnam is one of the subsidiaries of the C.P Group.
With the trust and cooperation of C.P Vietnam, Hao Phuong Company became a supplier and installed the level indicators for the company's factories. Here are some pictures of the construction process of this project.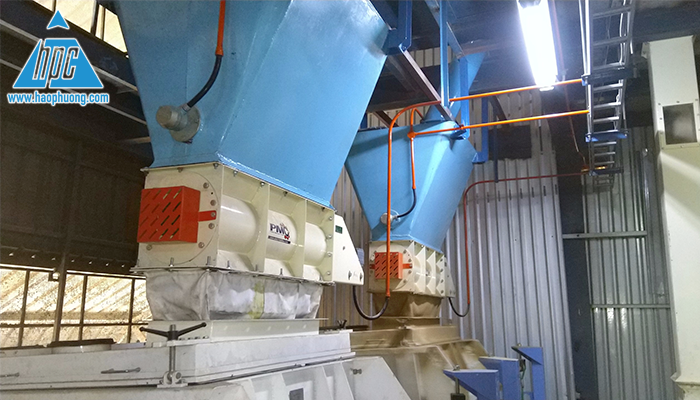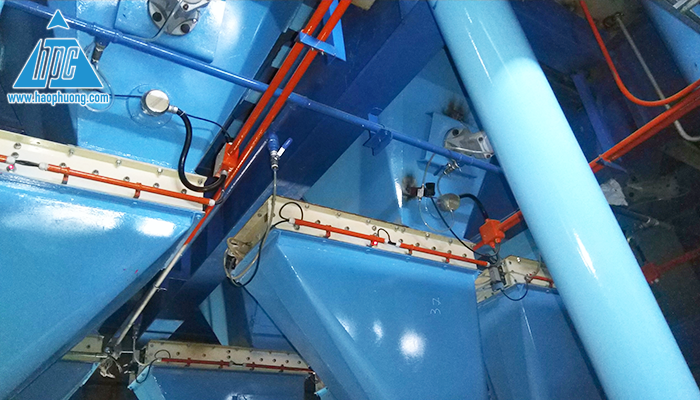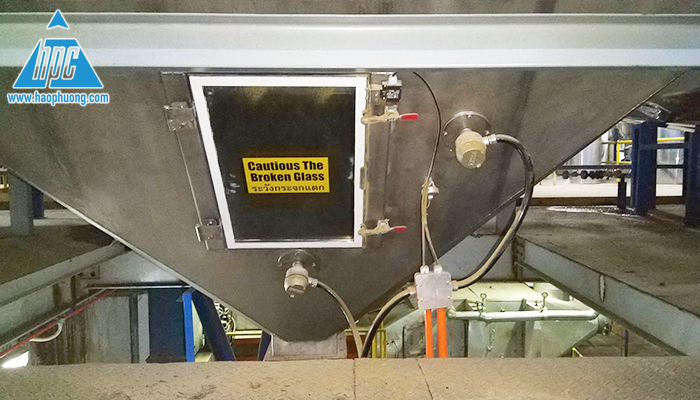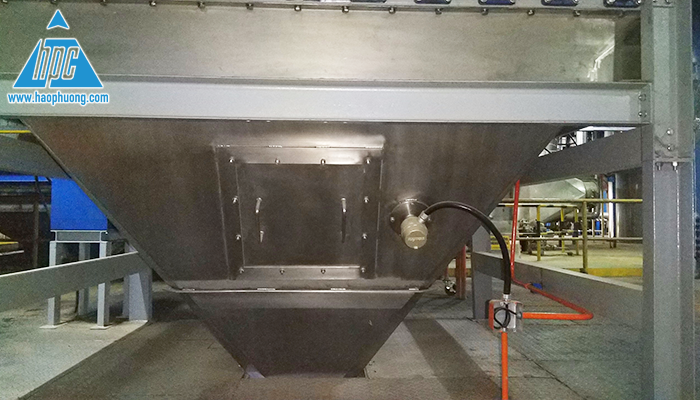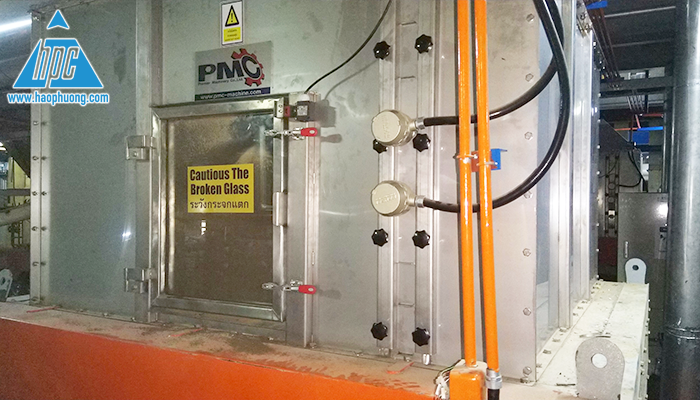 Gellen bran drying system area includes holding bin, dryer, cooler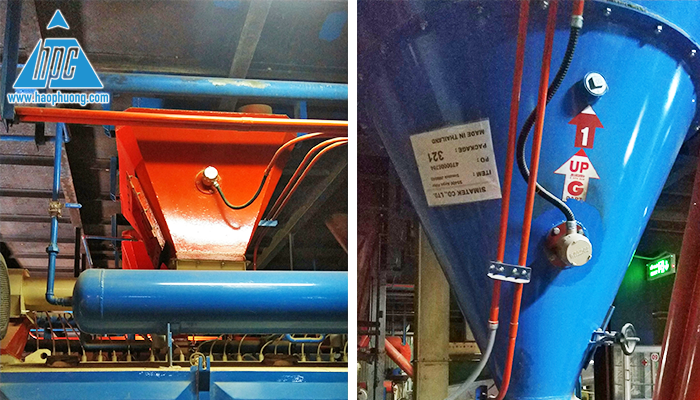 Customers and partners who want to learn more about Hao Phuong's robot products and solutions are invited to come to our booth at the 2019 VIMF exhibition. The exhibition takes place at the Conference Center – Binh Duong Exhibition on 12-14 June 2019. Hao Phuong booth promises to be an ideal destination for customers who are interested in the automation industry. We are confident to best serve your needs. See you at this exhibition.
>> See more: Which brands will be introduced by Hao Phuong at VIMF 2019?